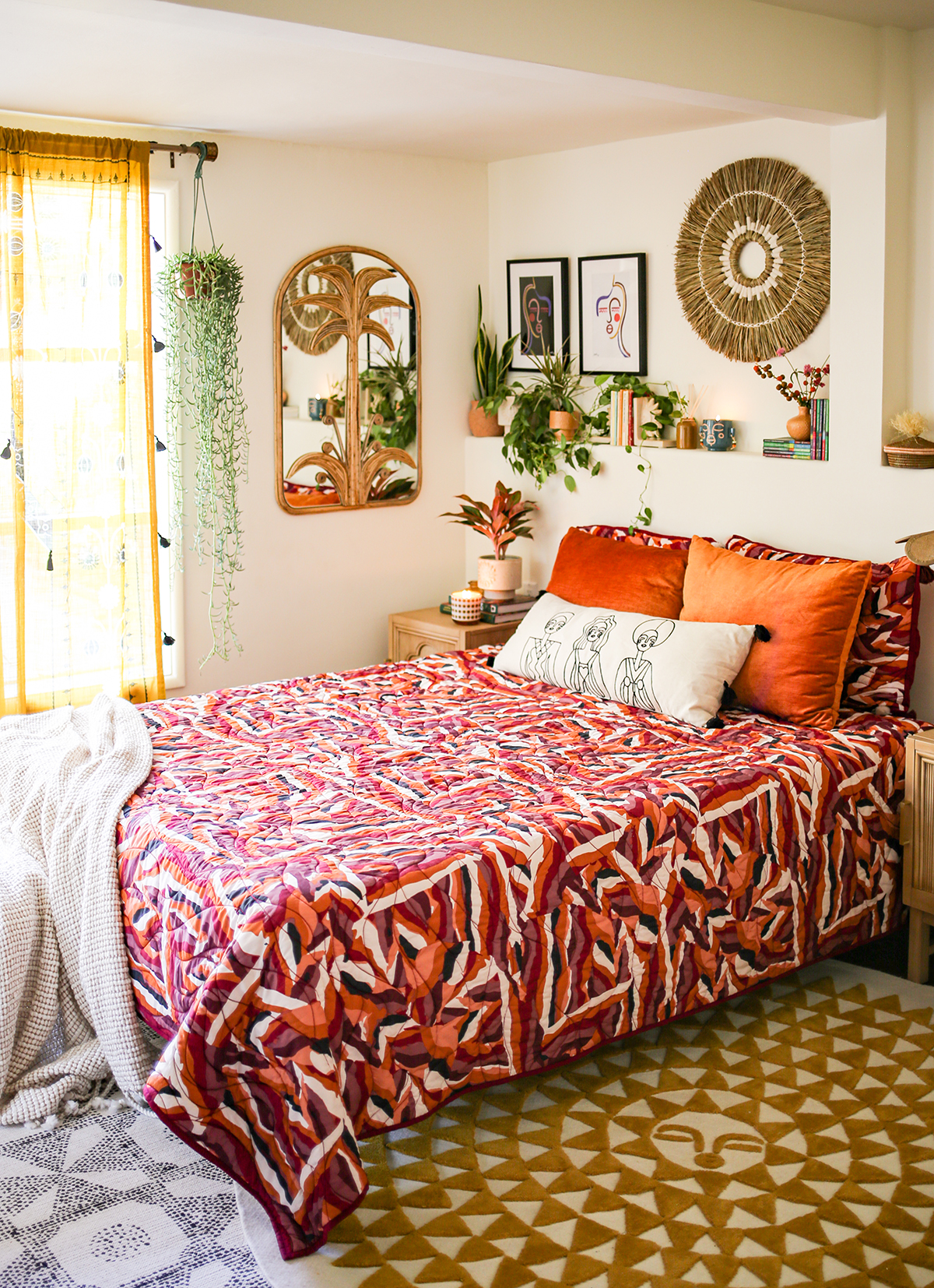 Are you ready for this? I am so, so SO excited to share our latest Jungalow Designed with Opalhouse collection available at Target. I'm pretty sure this is our largest drop yet — this new collection is hundreds of pieces that were designed to bring joy, fun, and color into your home. The concept behind this collection is "Sacred Garden." I think that can mean different things to different people, but what it means to me is that my home is my sacred space, where I get to be unapologetically yourself,  where I get to be as crazy as I wanna be, and, well, go wild. In my new book, I open with the phrase "Your Home is like a garden, it must be cultivated to create the conditions for healthy growth."  I really try and exemplify that idea through this collection.
In this sacred garden, there are oversized mushrooms, flowers and butterflies.
We can cover our walls in symbolic palm tree sunsets…
The sun radiates warmth and we… hang out with friends on park benches.  And for the first time since our Jungalow Designed With Opalhouse collection launched, we now also have rugs!
We also had some fun experimenting with simple ways to transform our regular bathrooms. From patternful towels with cozy hoods, to beautiful brass bath accessories, and shower curtains that will make your windows jealous — this collection really brings the retreat vibes.
There are so many fun ways to layer this bedding together. We designed the collection to be seamlessly mixed and matched to get that layered and collected vibe. So whether you want to go crazy with color or have a fun, graphic moment in black and white, we got you.
I love all the special detailing…beading, tassel trims, and fabrics that are *so* soft to the touch–and quirky candles that will transport you to the Sacred Garden with scents of lemon verbena and eucalyptus–we hope the collection dazzles the senses!
But wait…there's more! We also have a new tabletop collection — for both outdoor and indoor (which is good because I want to use this stuff EVERYWHERE!). These "glasses" come in these multi-colored sets which bring me so much joy because I feel like you could have the blandest table setting on earth, add these glasses and you have an INSTANT festive feeling.
We really poured our heart into this one and we hope that you love it as much as we do! You can head over to preview the collection now and heart all your faves so you can easily add to cart on the 20th when we officially launch the spring collection!
xoxo ~Justina