It may go down as our most gradual kitchen renovation ever, but almost exactly two years into living here (we hit that milestone last Saturday!), our kitchen is officially DONE! New cabinets? Check. Tiled backsplash to the ceiling? Yup. Quartz countertops and a sink that's 3X deeper than the overmount sink of yore? Affirmative.
New hidden range hood? You betcha. More functional storage in the form of additional drawers, new upper cabinets, and a generously sized pantry cabinet? Yessir. Tons of before & after photos? That's what this post is for! Plus we've got a full budget breakdown for you. So in the illustrious words of Tiesto, let's get down to business.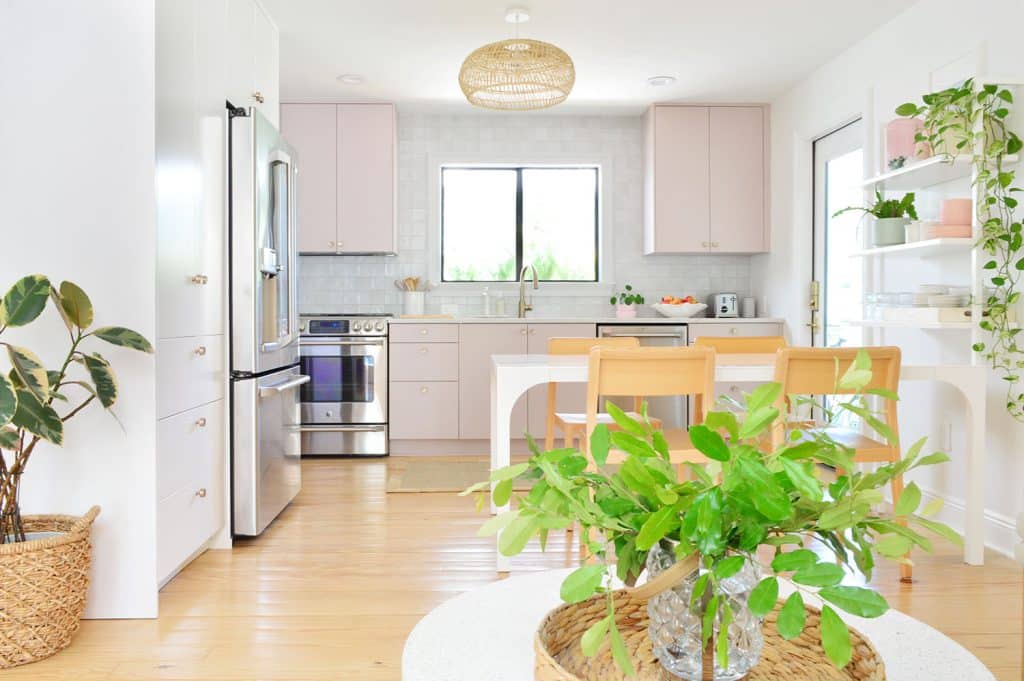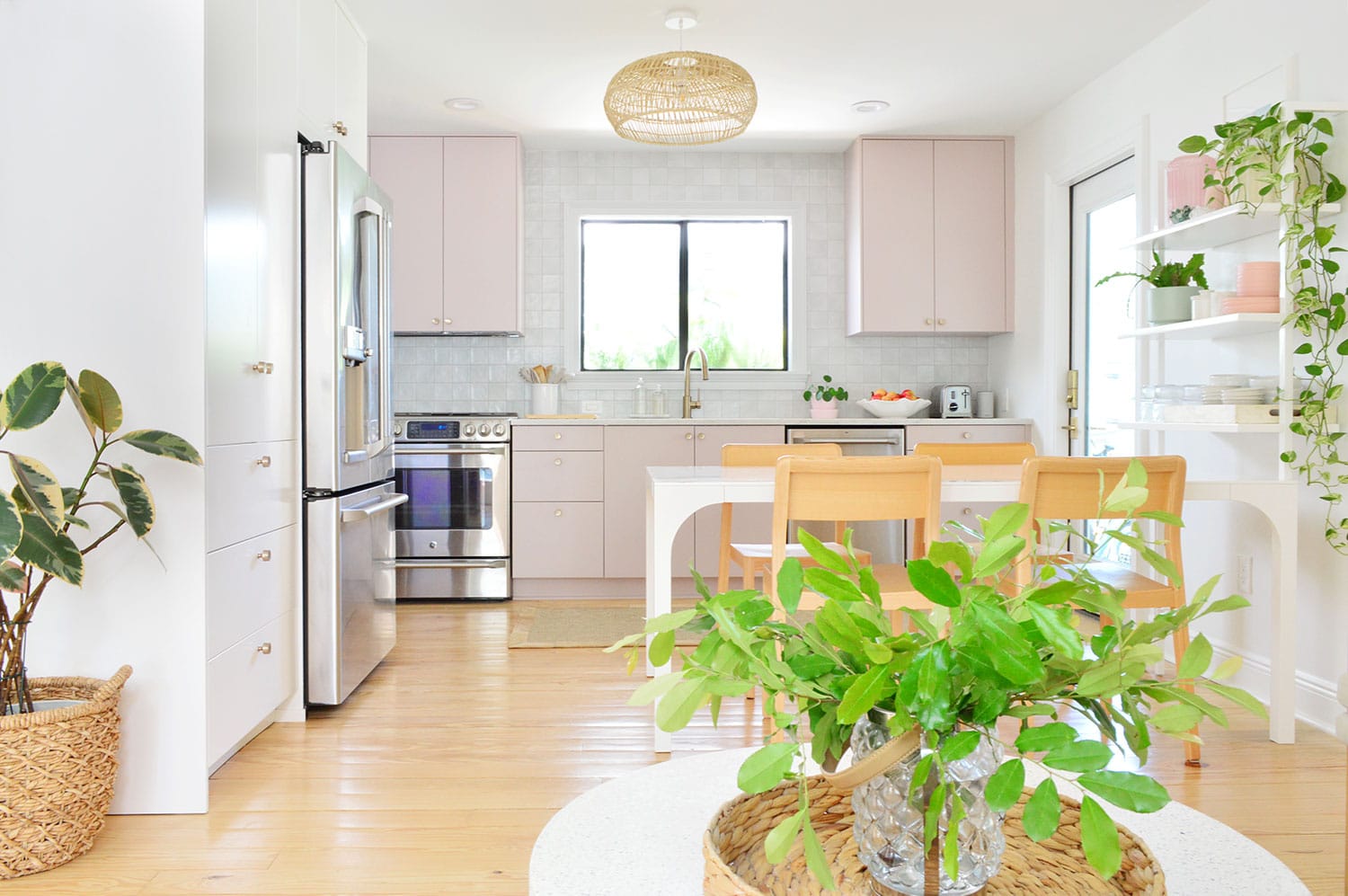 To us (and maybe to you as well) this has felt like a very gradual transformation because we just sort of tweaked and adjusted things over the last two years in many small phases, rather than going through one mega-gut-renovation like our last house's kitchen. And the good news is that no matter how slowly you peel the potato (is that a saying? If not, let's make it one), the change still feels pretty dramatic when we look back at the day we bought it.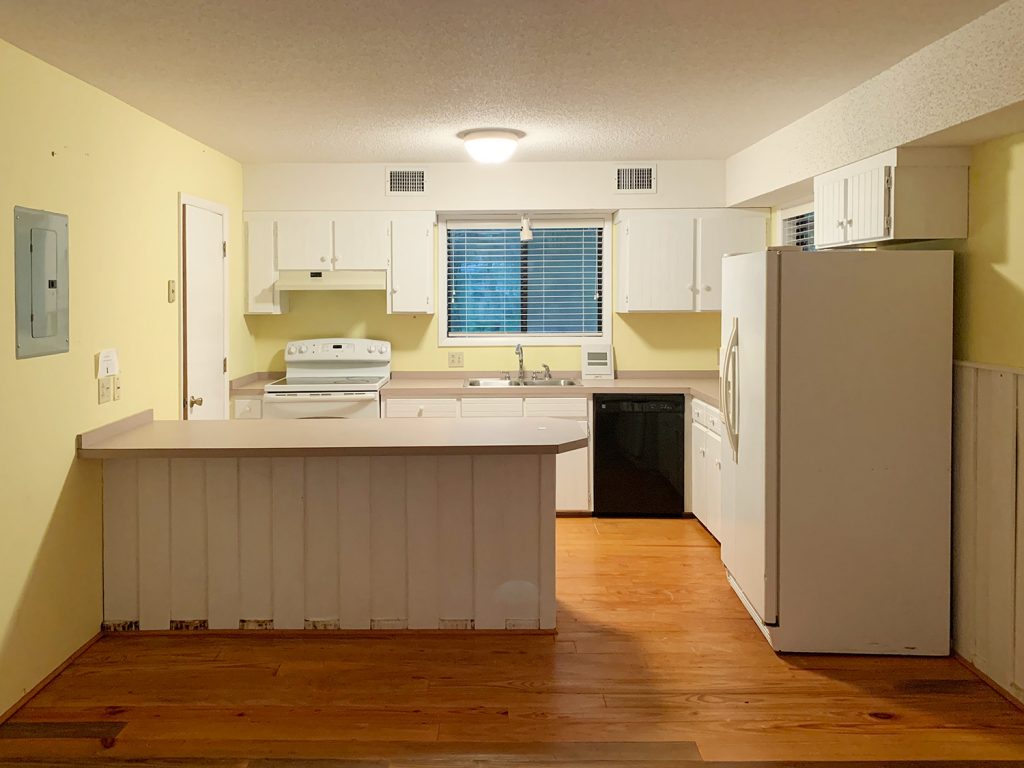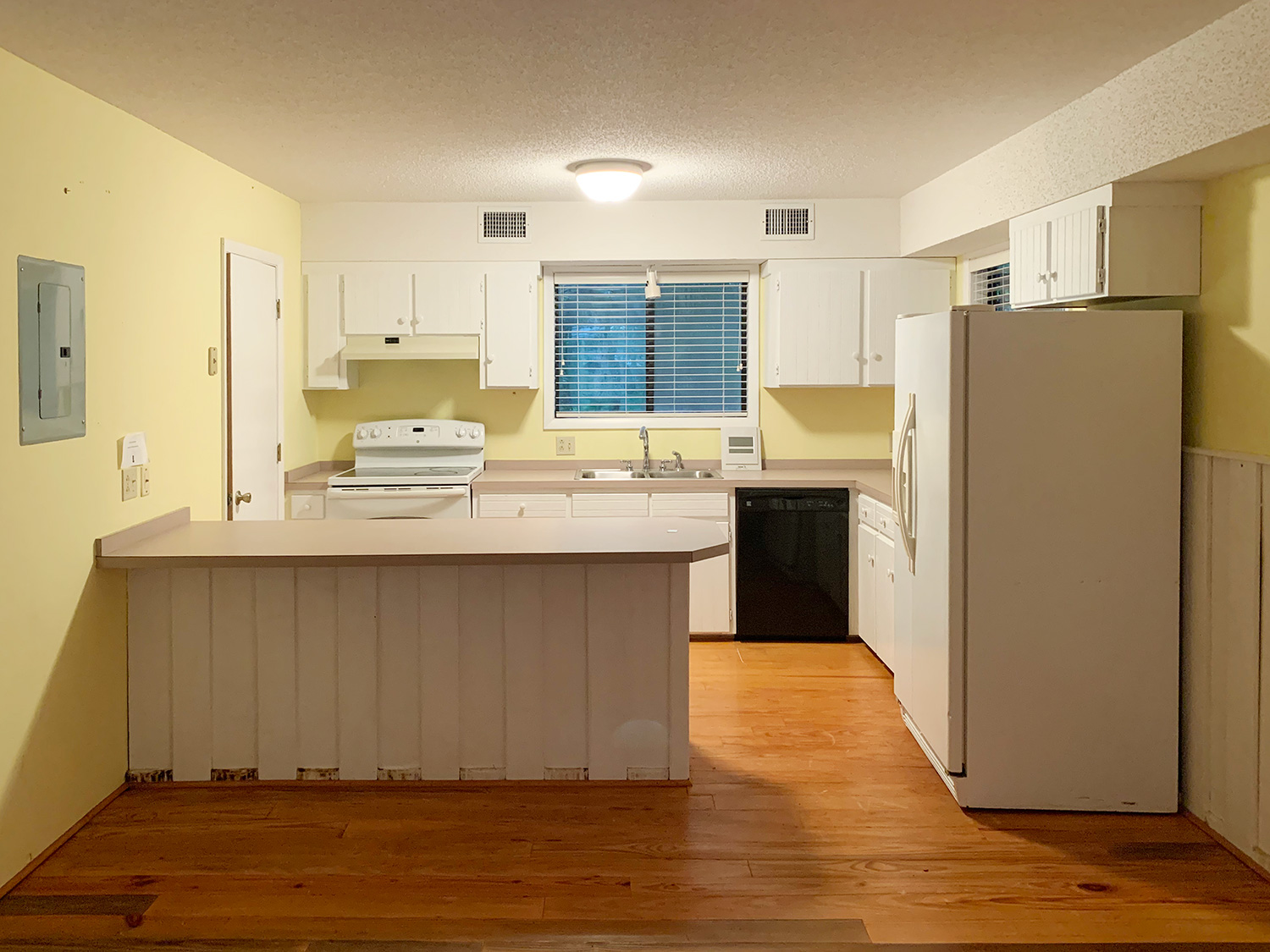 Not only is it a relief that it's finally complete, we're also so grateful for how functional it has turned out to be. I'd be lying if I didn't say we weren't a little skeptical of this space when we first laid eyes on it (ok, I was skeptical – Sherry's one of those perenially optimistic people who truly believed in this room).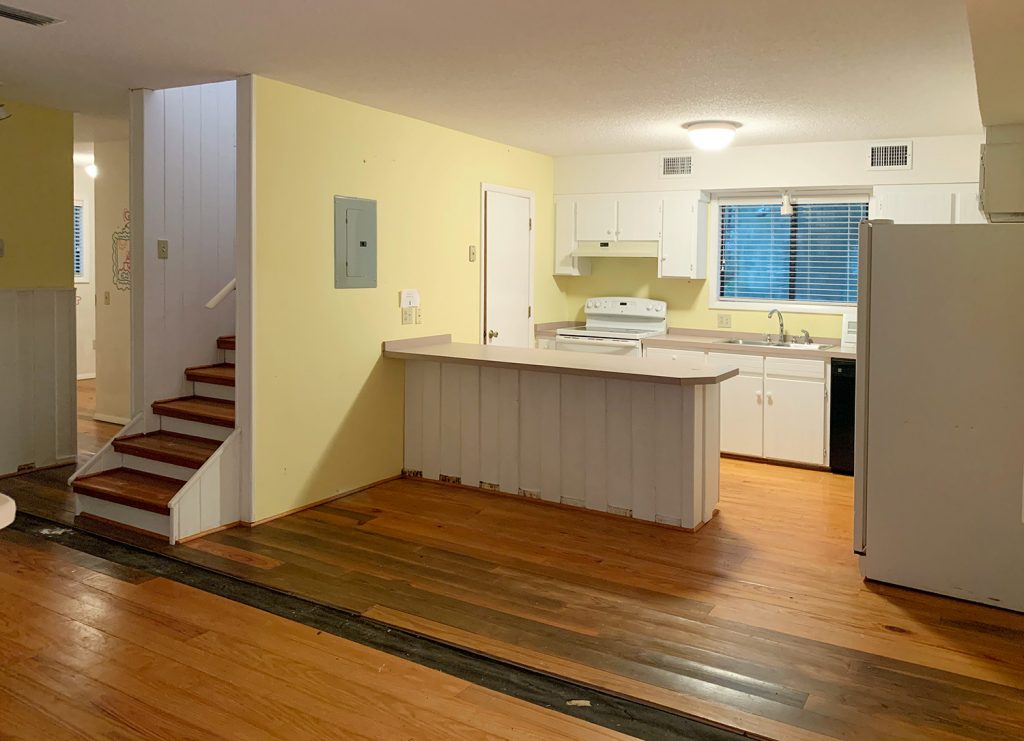 So imagine my elation that it has turned out to be one of the most efficient and easy-to-cook-in kitchens that we've ever had. After coming off of such a large kitchen in our last house, that was the biggest surprise. The work triangle in here is so direct and easy, it takes fewer steps to grab things and assemble meals (whether it's a quick lunch or a deep and involved dinner). And we actually have a larger pantry cabinet than we did in our big Richmond kitchen!
I've said it before and I'll say it again: one huge pro to renovating a space in different stages over a period of time is that you really get to live with things, identify issues, and test out solutions before landing on the final design. So that definitely helped us in here.
Speaking of which, this video not only captures the finished kitchen as it looks right now, it starts with a flashback to what it looked like when we first laid eyes on it. In many ways it fills in more blanks than the entire rest of this post because a video is easily worth 1,000 pictures. So if you do nothing else, make sure you watch this video:
Note: You can also watch this video on YouTube.
The Evolution Of Our Kitchen
Again, this is the kitchen we laid eyes on when we bought the house (it's one of many "befores" that we documented in this post). Between the soffit that ran across two walls of the room, the popcorn ceiling, and the mismatched appliances – there was a lot that we hoped to upgrade. And let's not forget the boob light shining brightly on the ceiling.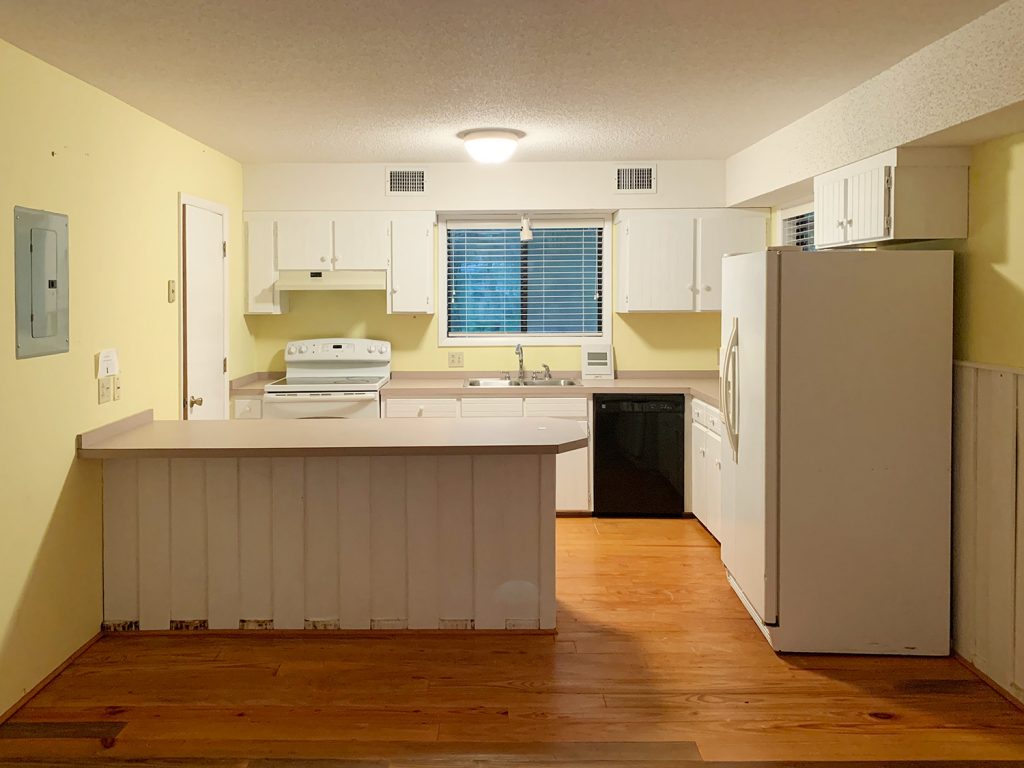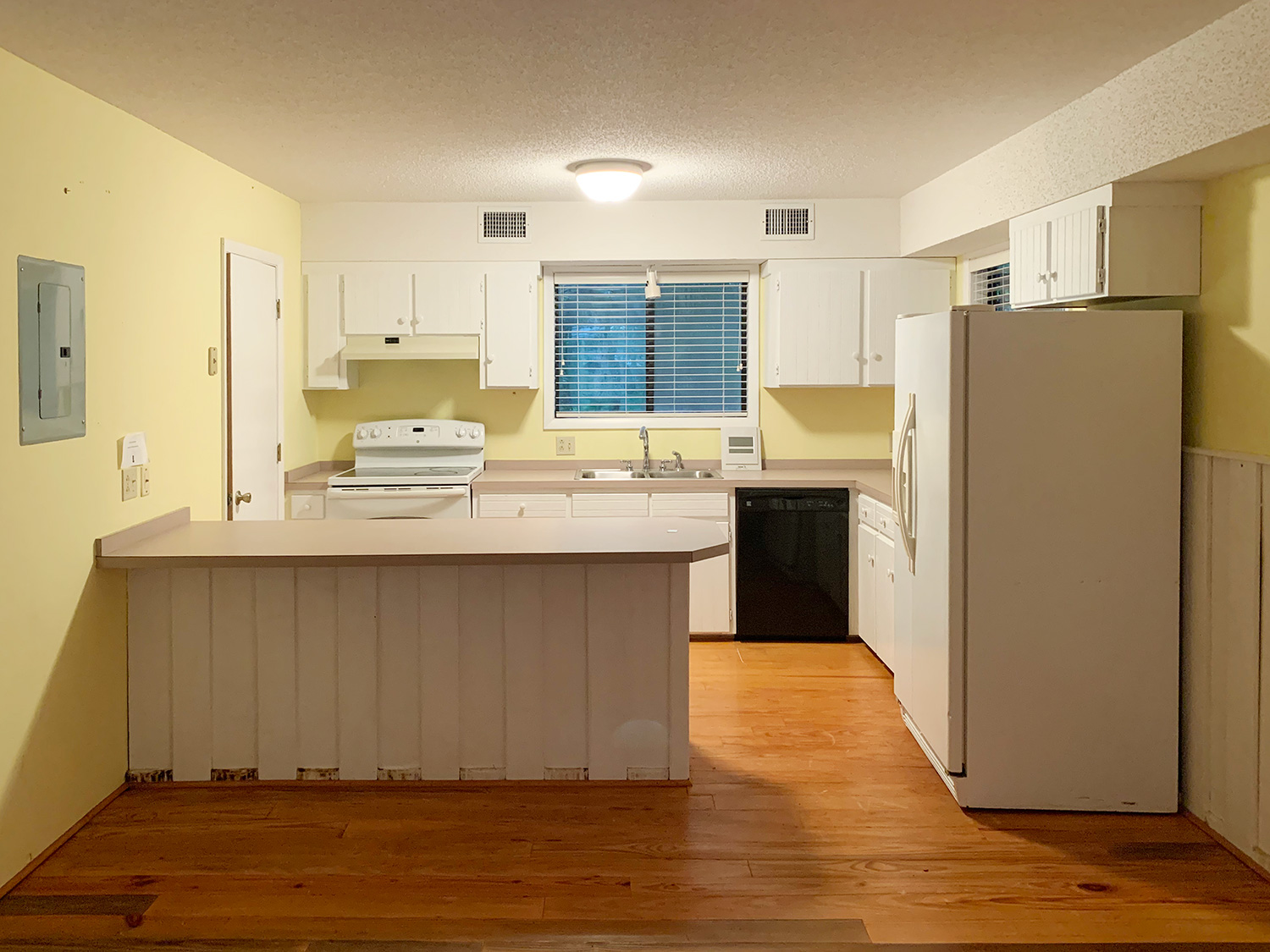 As part of our pre-move-in renovations, our contractor made some big improvements while we were still in Richmond – removing the soffit & uppers, taking out the peninsula, patching the floors, and re-drywalling (we had to redo the entire first floor's drywall and patch the flooring throughout due to moisture issues) as well as adding some can lights. But much to their surprise, we left most of the kitchen intact.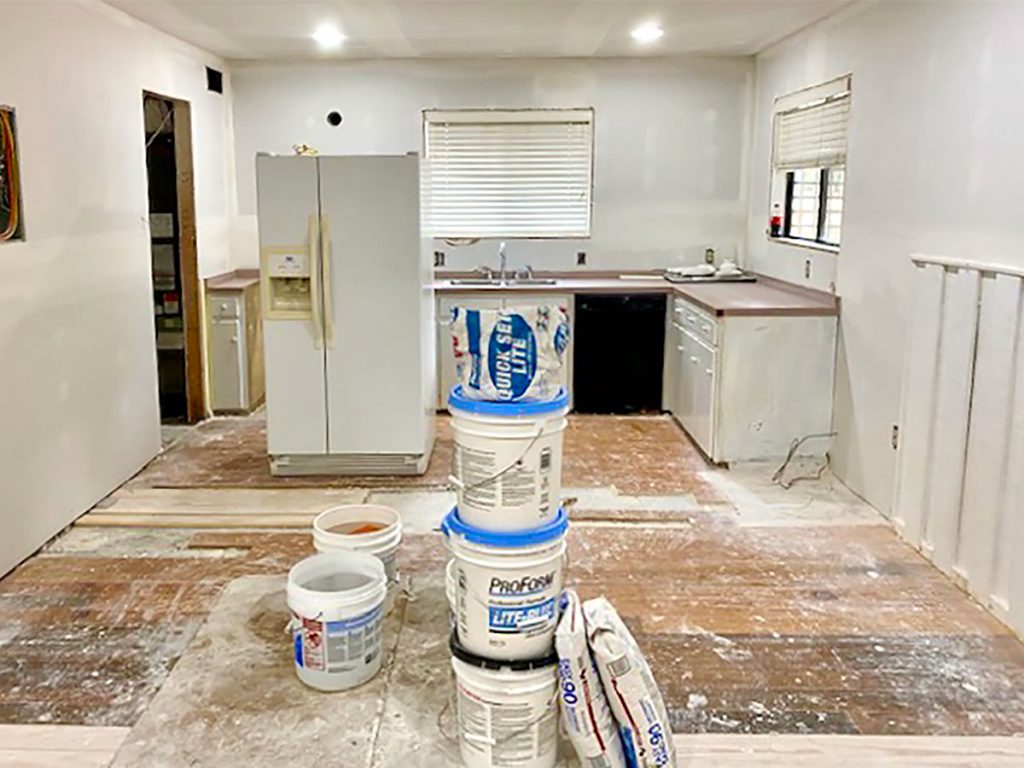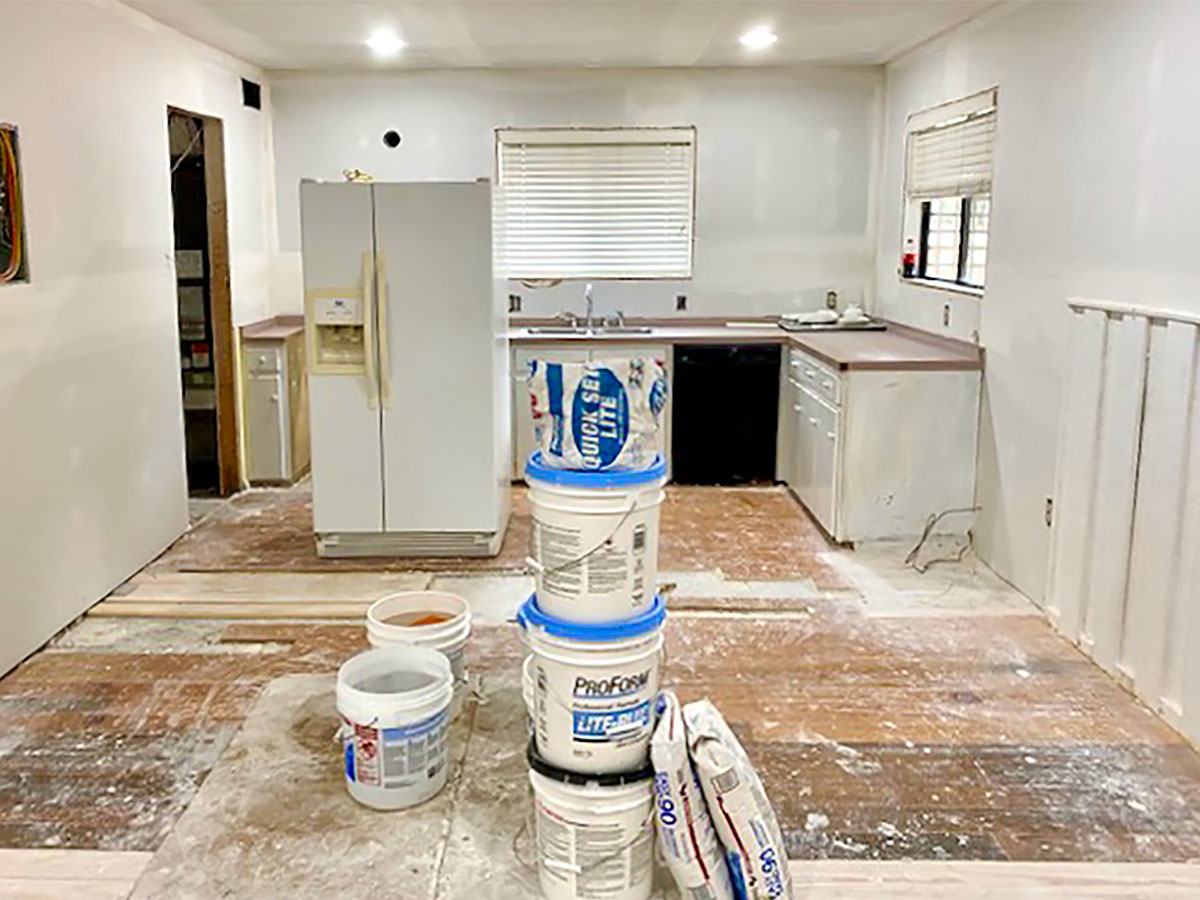 By the time we moved in, this is how we first lived with the space. Mind you, this was May of 2020 when we were still pretty much cooking and eating every meal at home, so it was a bit of an adjustment. But it worked!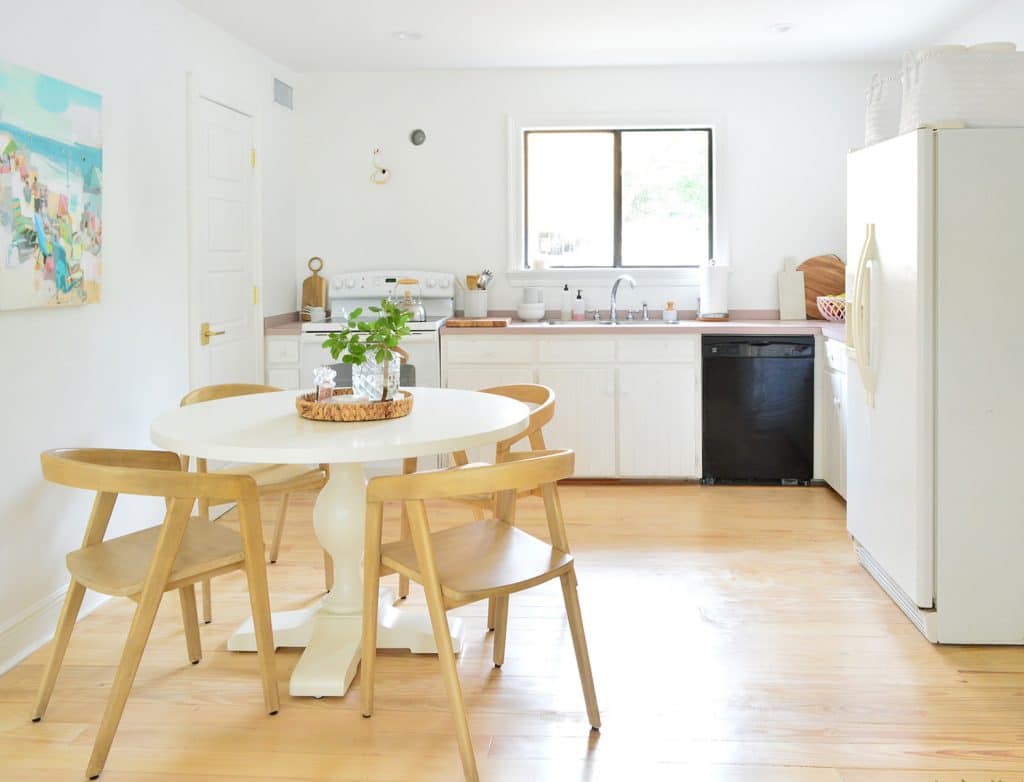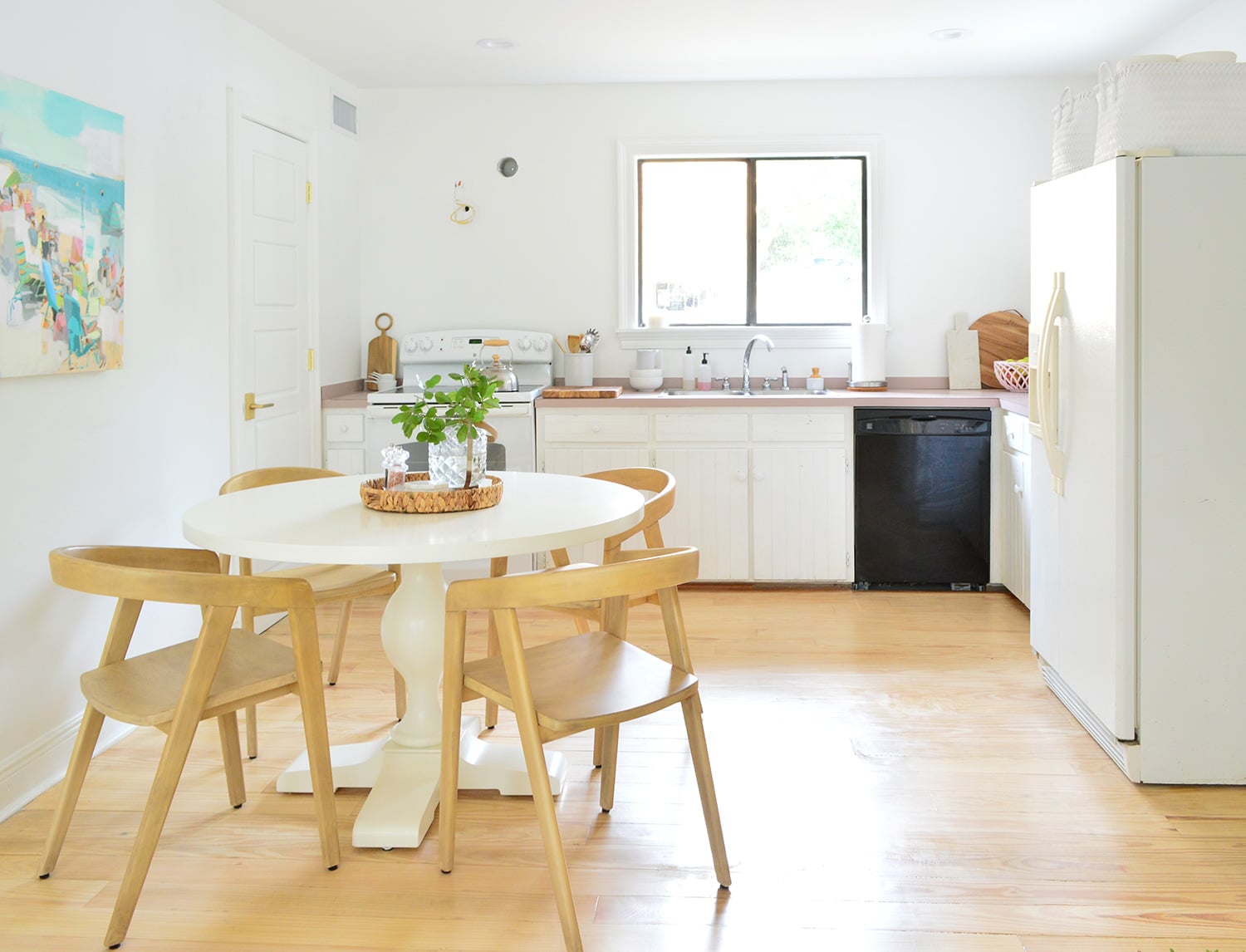 Those first few weeks gave us confidence that we could live with this kitchen "as is" for a while, which gave us permission to make improvements slowly – and that's largely what you saw us do over the last two years. We hung shelves. We installed a pendant light that we swagged over the table. We painted the cabinets mauve to match the laminate counters.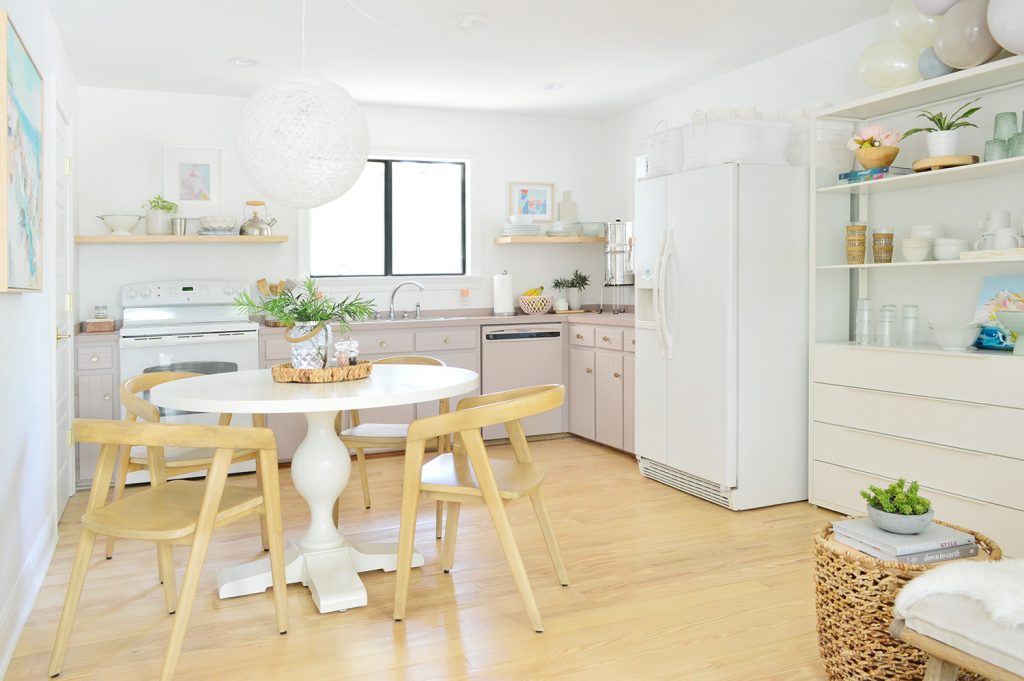 Then, about a year ago, we had a clearer vision of what we wanted from the finished space. We moved the fridge and built a large pantry cabinet around it for extra storage. We got a larger table that seats more people. We added a door where a window had been (which leads out to our grill & s'mores pit). We hung more shelves. Sherry cut the pendant light in half. You know, the usual tweaks.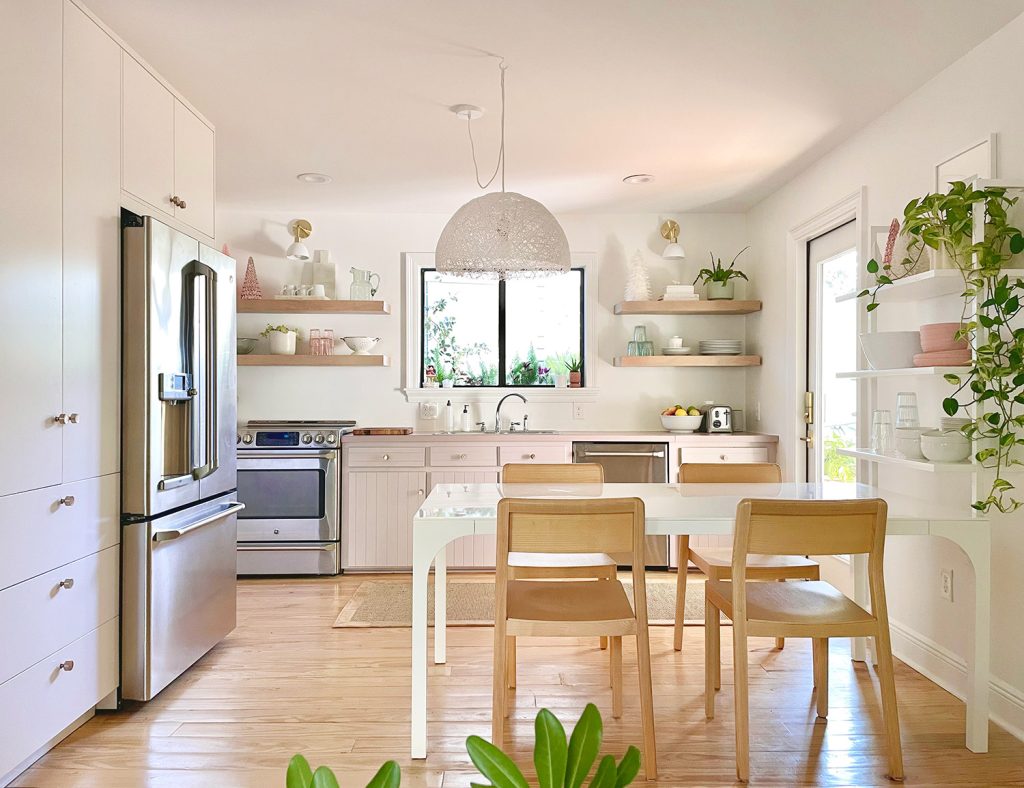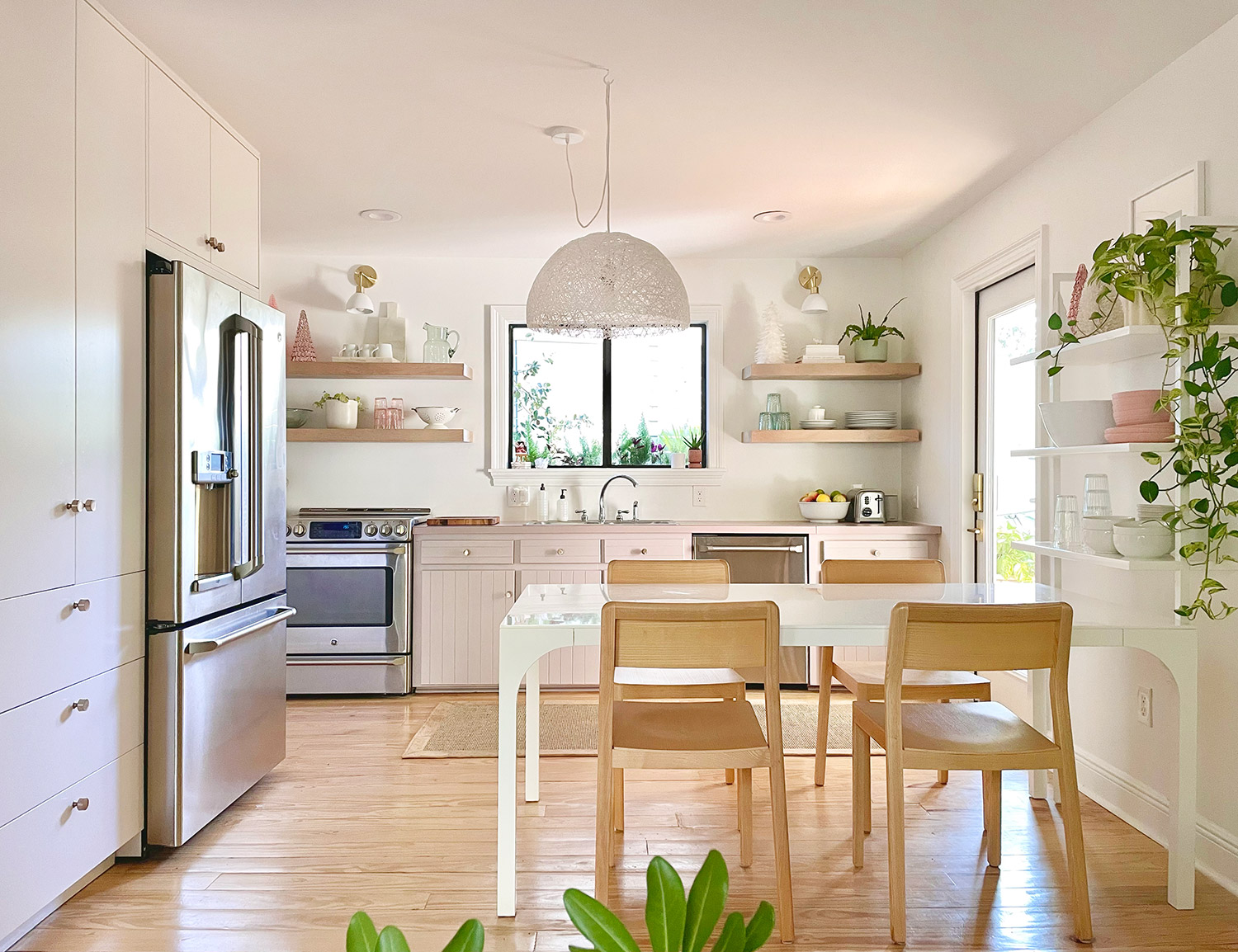 And then finally this spring, we replaced the original cabinets with better-functioning Ikea cabinets (and painted them the same mauve color), got new counters, and – as you're seeing for the first time in this post – added upper cabinets and tiled the backsplash! We also hung a new woven pendant light as a semi-flush-mount, rather than swagging it over the table like we used to do, which feels airy and simple. And the substantial brass faucet below it feels balanced and ties into the brass hardware.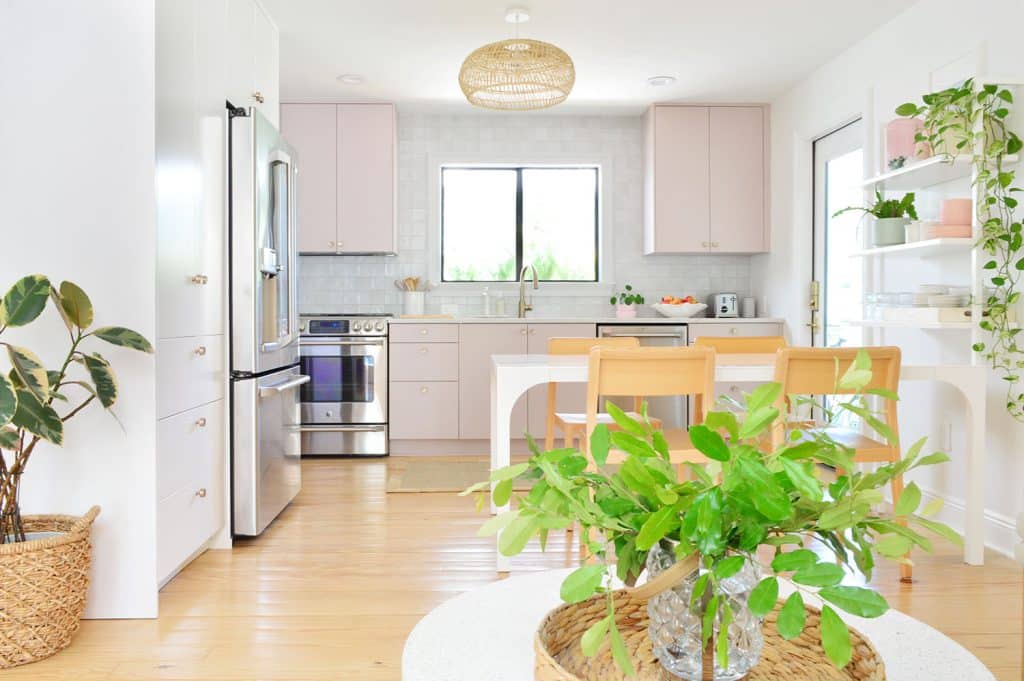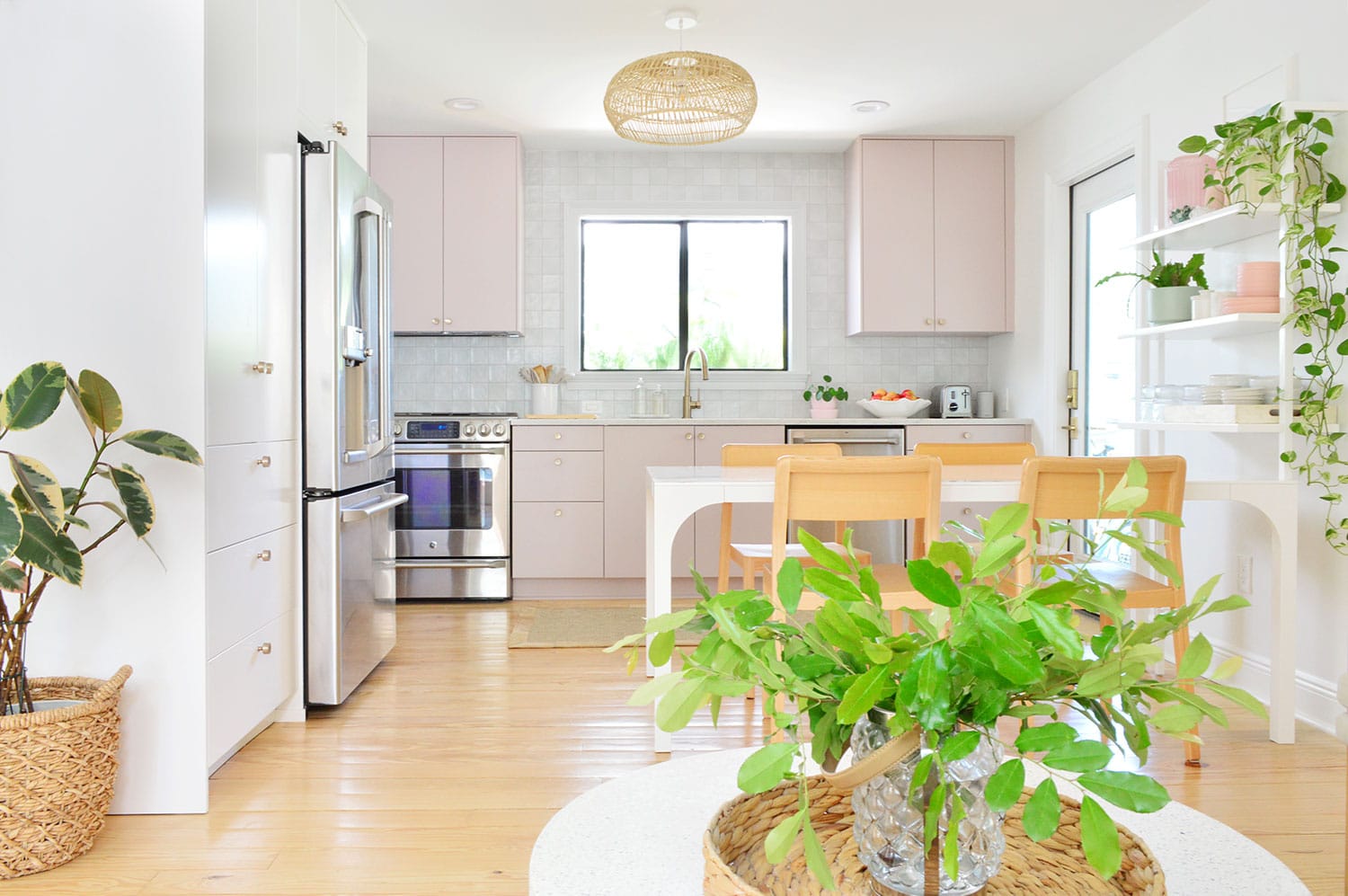 From the subtle backsplash (Sherry describes it as: "a pearly-blue color that feels perfect for the beach – like the inside of an oyster shell") to the classic marble-like quartz counters and the mauve color that we brought over to the new cabinets (which has always been in this room and feels meant to stay) – we really like where we ended up. The cabinet color is Artsy Pink by Sherwin Williams by the way.
So let's talk about those new additions for a second…
Our New Tile Backsplash
This backsplash is actually what kicked off this last phase of the renovation. It was one of those "If you give a mouse a cookie" scenarios. We wanted to add a backsplash, but we knew it only made sense to do AFTER we replaced the counter. And it only made sense to replace the counter AFTER we replaced the cabinets. Those were things we intended to do eventually, but the desire for a backsplash is what made us finally pull the ripcord and go after all three. Also, our old sink was so shallow you could see a small cup protruding over the top edge. So that situation has greatly improved. Now we can hide all the dirty dishes. Long live the deep sink!
But back to the backsplash. Our initial goal was to add some texture and shine, but not a ton of bold pattern or color like we've done before. We just wanted it to feel light, relaxed, and beachy – and since it shares space with a sitting area and can be seen from the front door, we didn't want anything too busy or bold that we might tire of over time. We quickly zeroed in on this affordable 4×4″ zellige-style tile in the "Sky" colorway. It's extremely hard to capture in photos, but it's truly a very soft blue-gray tone with lots of sheen.
The whole wall only cost us about $325 to do and we knocked it out in about 2.5 days, including grout. I won't bore you with the step-by-step details, since we've talked extensively about tiling before (here's our backsplash tutorial, including a video!) but it came together pretty quickly and immediately gave us that shine and subtle texture we were hoping for. It really is like the inside of an oyster shell.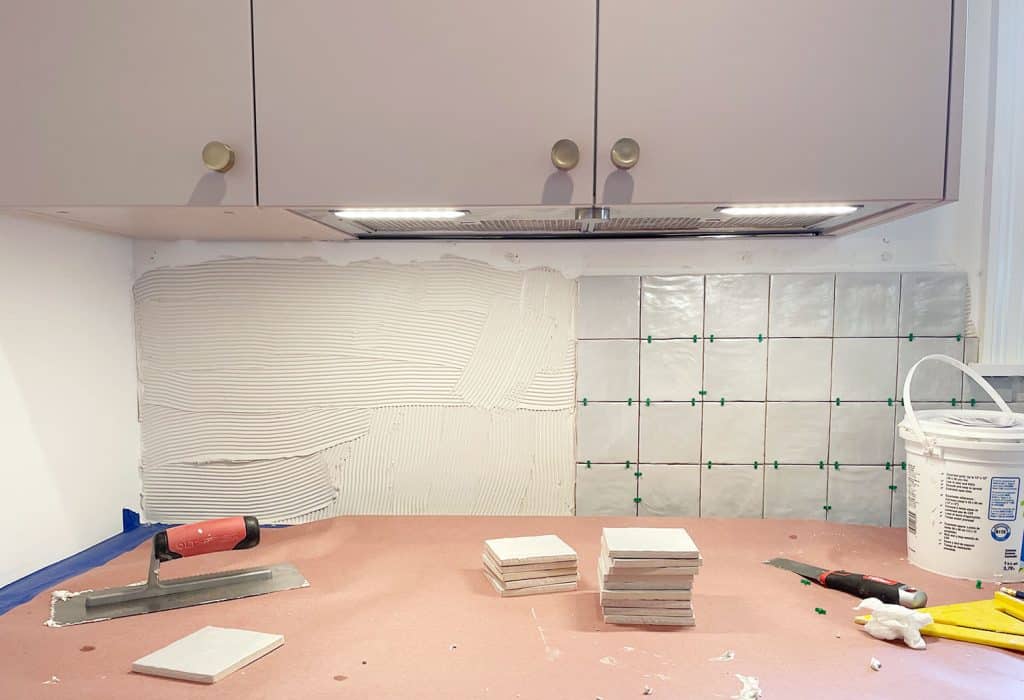 The only thing about tiling a kitchen backsplash that I'll reiterate is the point I illustrate in this post about LAYOUT PLANNING. Please, please, pleeeeease take time to plan your tile layout before you begin. You'll probably want to minimize the need for small slivers of tile around any edges (like the ceiling or against the cabinets) so measure and/or dry fit your tiles to see how things look first. You can always make adjustments – like cutting your bottom row slightly or shifting your centerline to be on a grout line, rather than the center of a tile (or vice versa).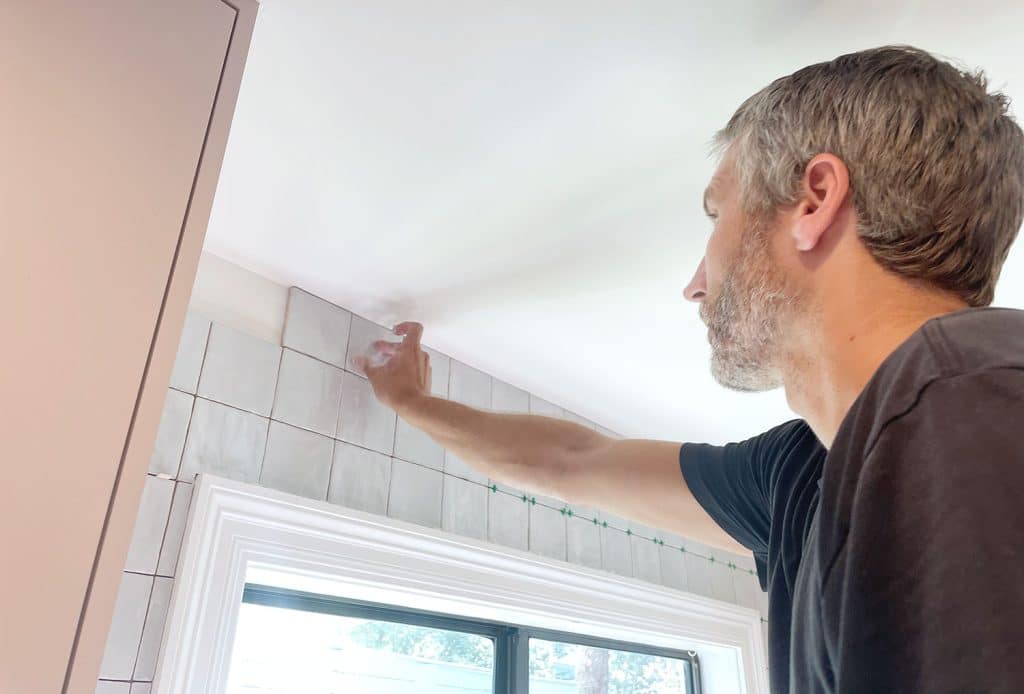 It actually took us a few tries of dry fitting (no mastic, we just leaned things up against the wall to visualize a few options) to make sure we chose a layout that looked even & symmetrical around the window AND against the side walls, especially since the window isn't centered on that back wall.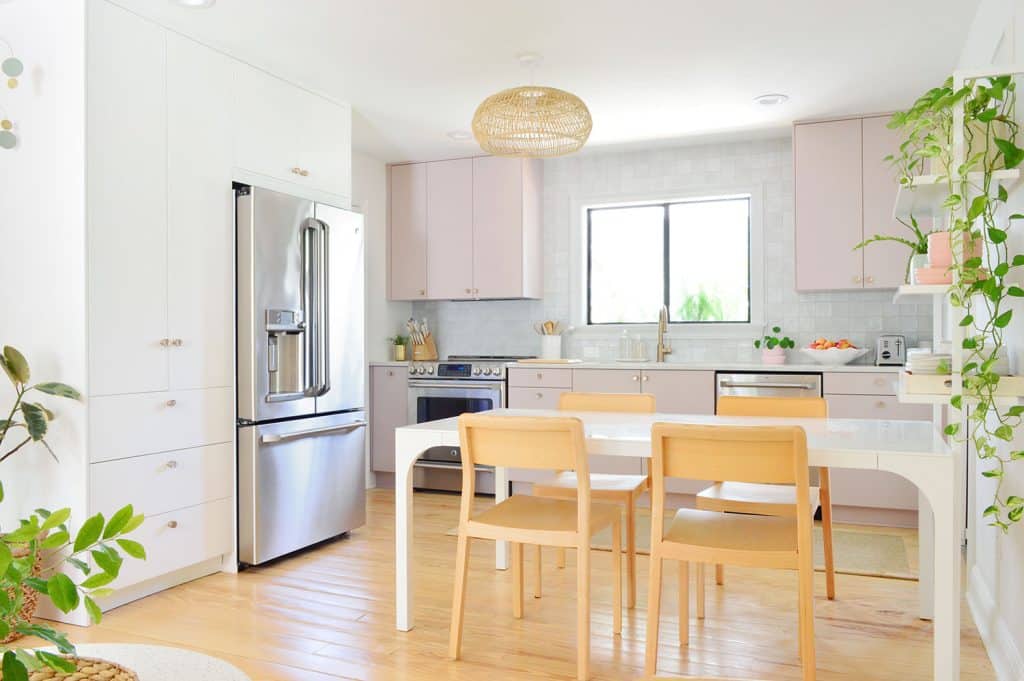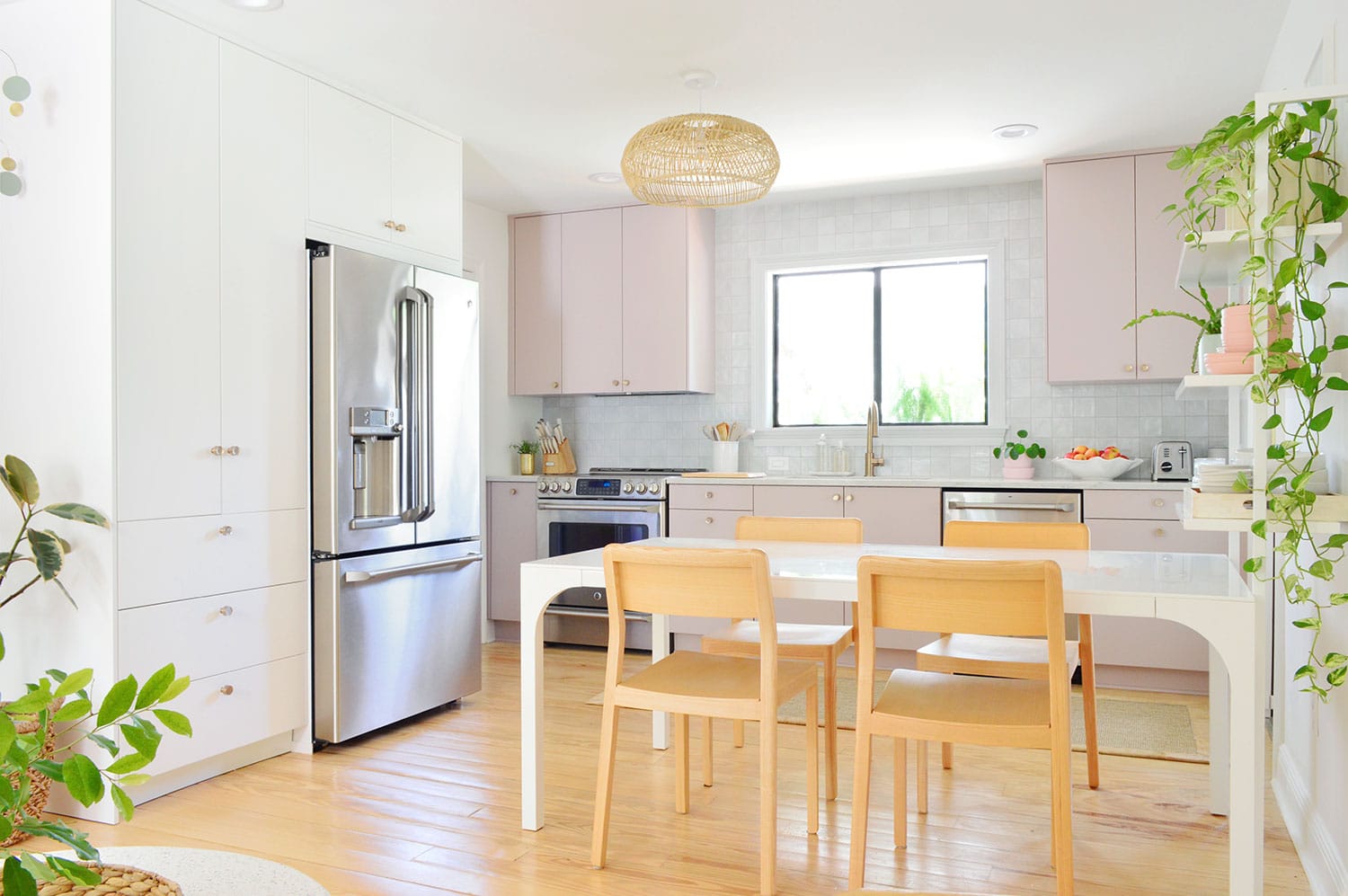 My only other tip for installing zellige or zellige-inspired tiles is to sort them ahead of time, paying close attention to the different sheens and/or "directions" of the tile. Some of ours were more matte than others. Some had vertical or horizontal movement, others had a more circular feeling in their unique handmade-looking shapes (these don't have exact square edges and the fronts vary in their peaks and valleys and shapes too). You can kind of see what I mean here:
So to achieve a nice randomized look, we actually had to be quite deliberate about placing differing tiles next to one another, often rotating them if two with vertical movement were about to be next to each other. As for the grout we used, we wanted something that blends in, so we picked an old favorite: Mapei Flexcolor grout in the "warm gray" color.
You can also see below that we painted that window trim the same tone as the tiles. It was feeling weirdly bright and white while everything else was intentionally tonal on that back wall, so it felt so much better as soon as we painted it to recede with the tile. We purposely picked a more gray-toned quartz counter to go with the blue-gray backsplash tile and our softly toned cabinets, because we were hoping for a soft layered effect and the result is so calming and subtle in real life. Be sure to watch the video for a better view of it – no picture can really capture it as well.
The Upper Cabinets & Hidden Hood
You can also see that we made the leap from open shelves to closed upper cabinets in this last phase of the renovation. It was something we went back and forth on, but ultimately were swayed by two things:
Adding more hidden storage, which feels less busy (we have open shelves by the table, so two walls of it was a lot)
Gaining a hidden range hood (a hood wasn't required by code, but we always hoped to eventually add one)
Plus, we also think in the end that the kitchen feels bigger and taller in person thanks to these upper cabinets that go all the way to the ceiling. Two different friends have come over and been like "how weird is it that adding those big cabinets actually makes the back wall feel further back and higher?!"
We'll share more about what's IN all of these cabinets and how they're organized in a future post, but I did want to show you the hidden range hood cabinet over the stove (although it's arguably the least organized in the whole room).
This is a trick you may remember from our duplex kitchens, but it's just the Ikea OMSINNAD range hood which is designed to fit inside an upper cabinet. It's not the cheapest range hood in the world, but we were determined to keep that back wall looking as symmetrical & balanced as possible, so hiding the hood inside this cabinet was the perfect solution.
After not having a range hood for almost years, we've really appreciated owning one again (they help improve indoor air quality, cut down on airborne grease, and – bonus! – basically gave us under cabinet lighting on one side of the kitchen). Hashtag fancypants.
Also a deep stainless single bowl sink is forever our favorite choice for a kitchen (we've had a double bowl and even a white cast iron sink, but this is just ALWAYS our favorite). So that, along with a pull-down faucet that can be controlled with one hand is the jackpot for us (the whole controlled by one hand with one single toggle bar = why we've never gone for a bridge faucet).
It has been so great having the hood and upper cabinets that it makes us feel silly that we ever debated them in the first place. They helped this become, as I said at the start, one of the most efficient and easy-to-cook in kitchens that we've ever had…
… probably only rivaled by our first house's kitchen, which had a similarly hardworking work triangle, but much less pantry storage than we have here.
So…. winner winner chicken dinner. That ranking definitely has a lot to do with this kitchen's compact size and the fact that everything is never more than a few steps away. And let's not forget how much more functional and fun this entire space became with the addition of this door that leads out to our new kitchen porch, complete with a grill that's no more than five steps away.
This is a before of the very same angle. Pretty unbelievable, right? Notice how much taller the ceiling feels just by removing the soffit to allow for taller cabinets and elongating that window into a door.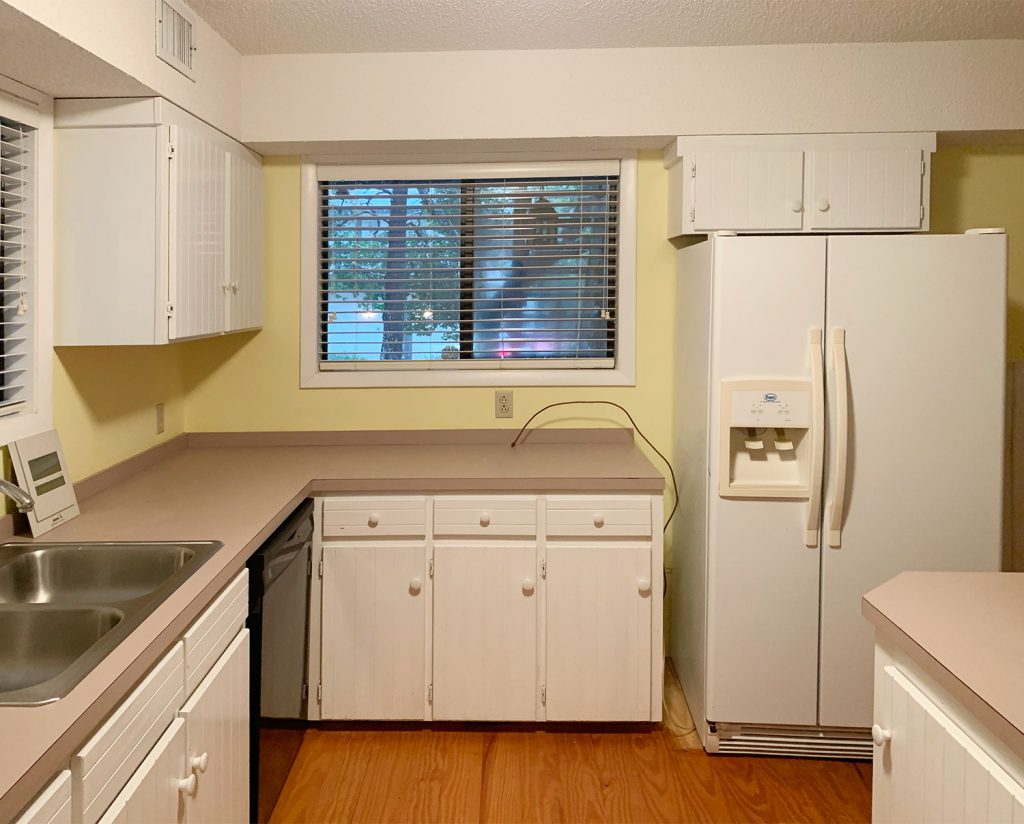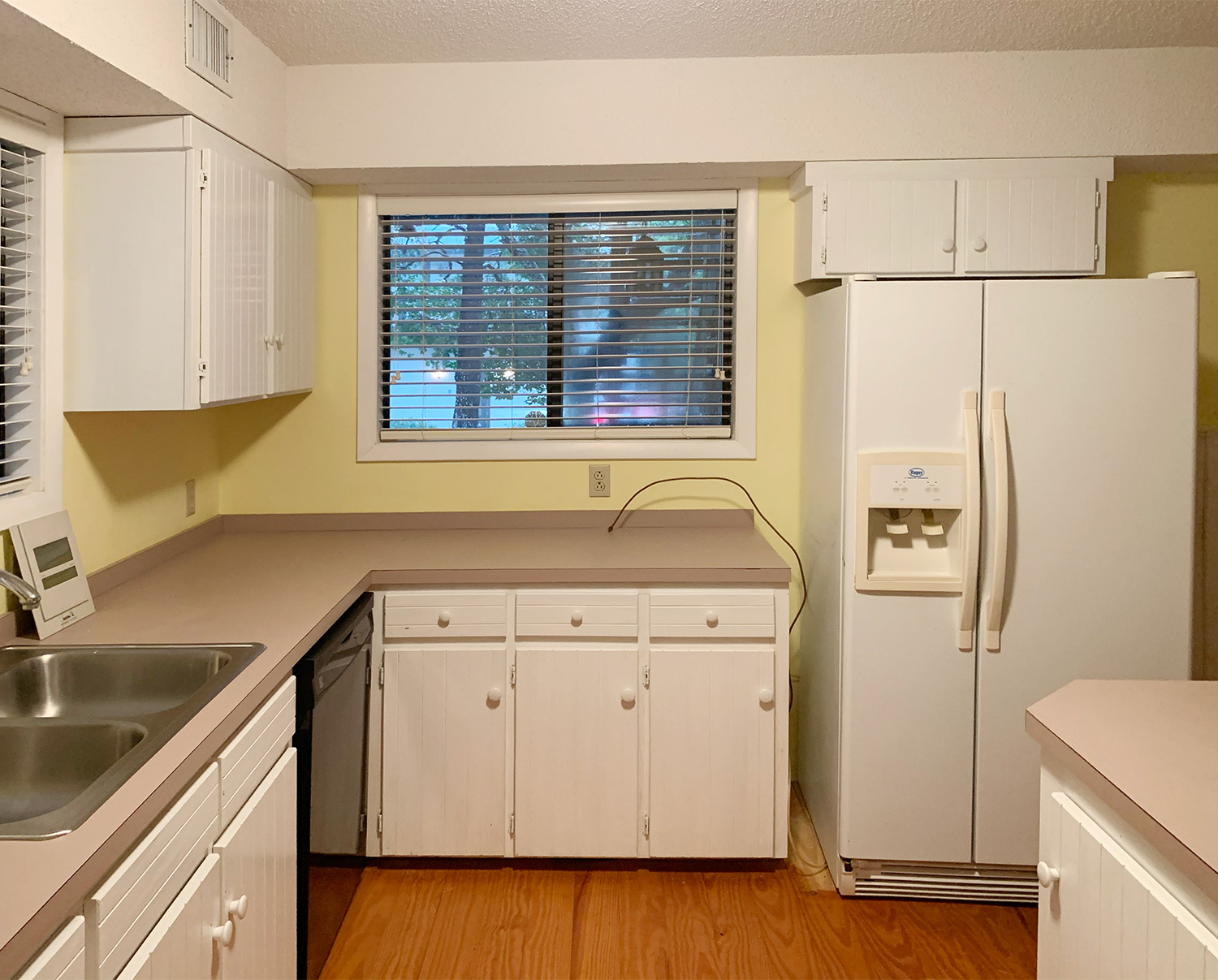 Never before have we had an outdoor grill this close and easily accessible from the kitchen. It really is just a few steps away, which makes it ridiculously efficient and is definitely one of the reasons that we grill out so much more now. We also have an outdoor cabinet on order that will basically elongate our current kitchen counter and essentially connect it to the grill outside. So our grill tools can be stored out there and we'll gain additional outdoor counter space.
Thanks to our new kitchen porch, we also have the choice of sitting outside to eat, and what can I say… we like options. If friends come over, the kids might end up inside at the table while we're out here (or vice versa). Plus we have a big table on the upper deck that seats 8 more if we have a bigger gathering or want to head up there for a game tournament after dinner!
We also have a door on the other side of the kitchen that mirrors the door that leads out to the deck, which is a utility closet that runs under the stairs. We recently redid it all to gain a LOT more functional storage in there, so we can't wait to show you how that closet has evolved. It houses our HVAC system, and also had our water heater, so it used to basically be blocked up and full of just that stuff…
… but we made the switch to a tankless water heater, so now there's SO MUCH BONUS SPACE in this closet! It'll never be a true pantry or anything since the HVAC system has to stay in there – but we added some handy storage and even a worktop surface – plus it's where we keep our vacuum and broom and all that stuff. We'll photograph and share all that we did in there in a future post.
Speaking of extra functions, another thing that makes this one of our favorite kitchens is the fact that this space is not JUST a kitchen. It also has a lounging/entertaining/hanging out area right nearby.
And compared to this picture taken during the initial renovation, the view has improved quite a bit.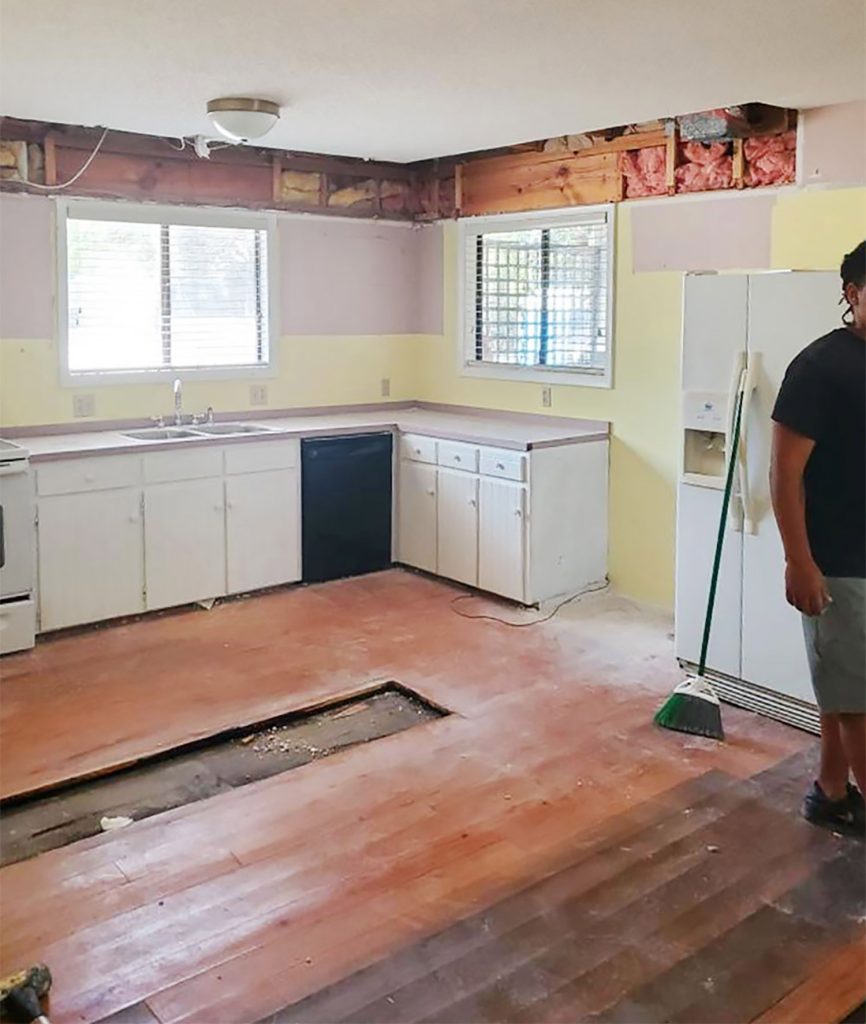 The Kitchen Sitting Area
About half of this room is the kitchen zone, and the other half is a sitting area that is SO USEFUL to us. We all spend hours in here every day, and after two years of having it, we can't imagine this house without it.
It's an area that we definitely didn't anticipate using or enjoying as much as we do – we just thought we'd try it out and see if we used it, and if not we'd put the dining table here and add an island to the kitchen or something. But boy do we use it.
This is what it looked like when we bought the house and, as part of our initial renovations, we closed off part of that opening to create our bedroom. Our guess is that the previous owners had a dining table here maybe?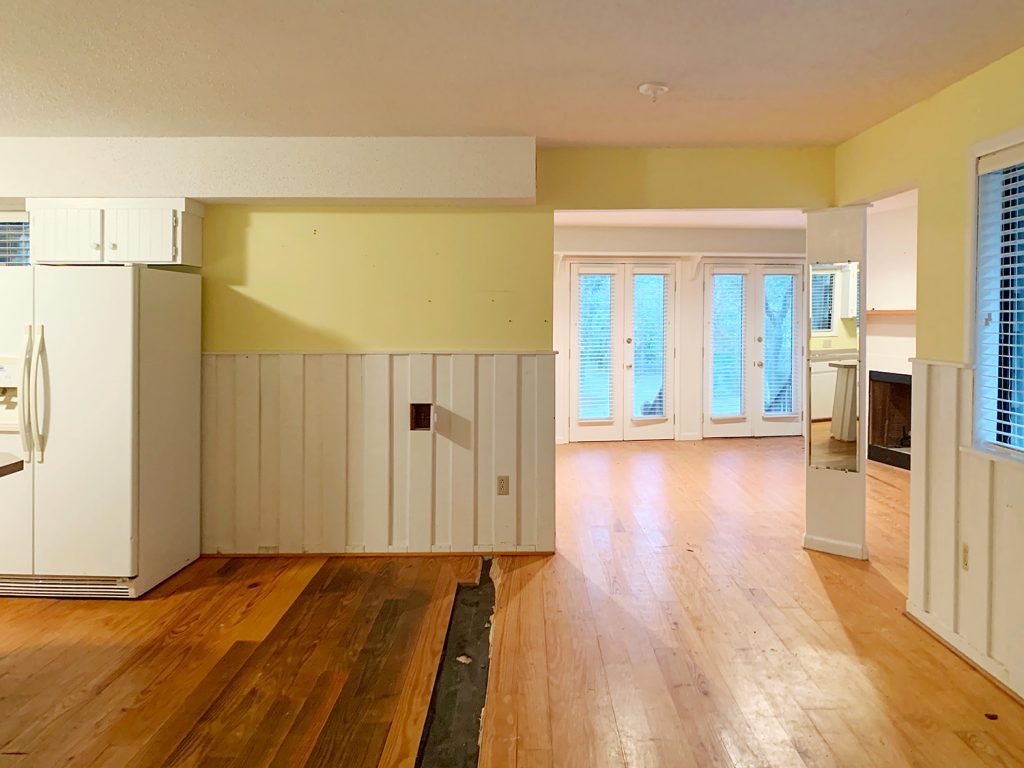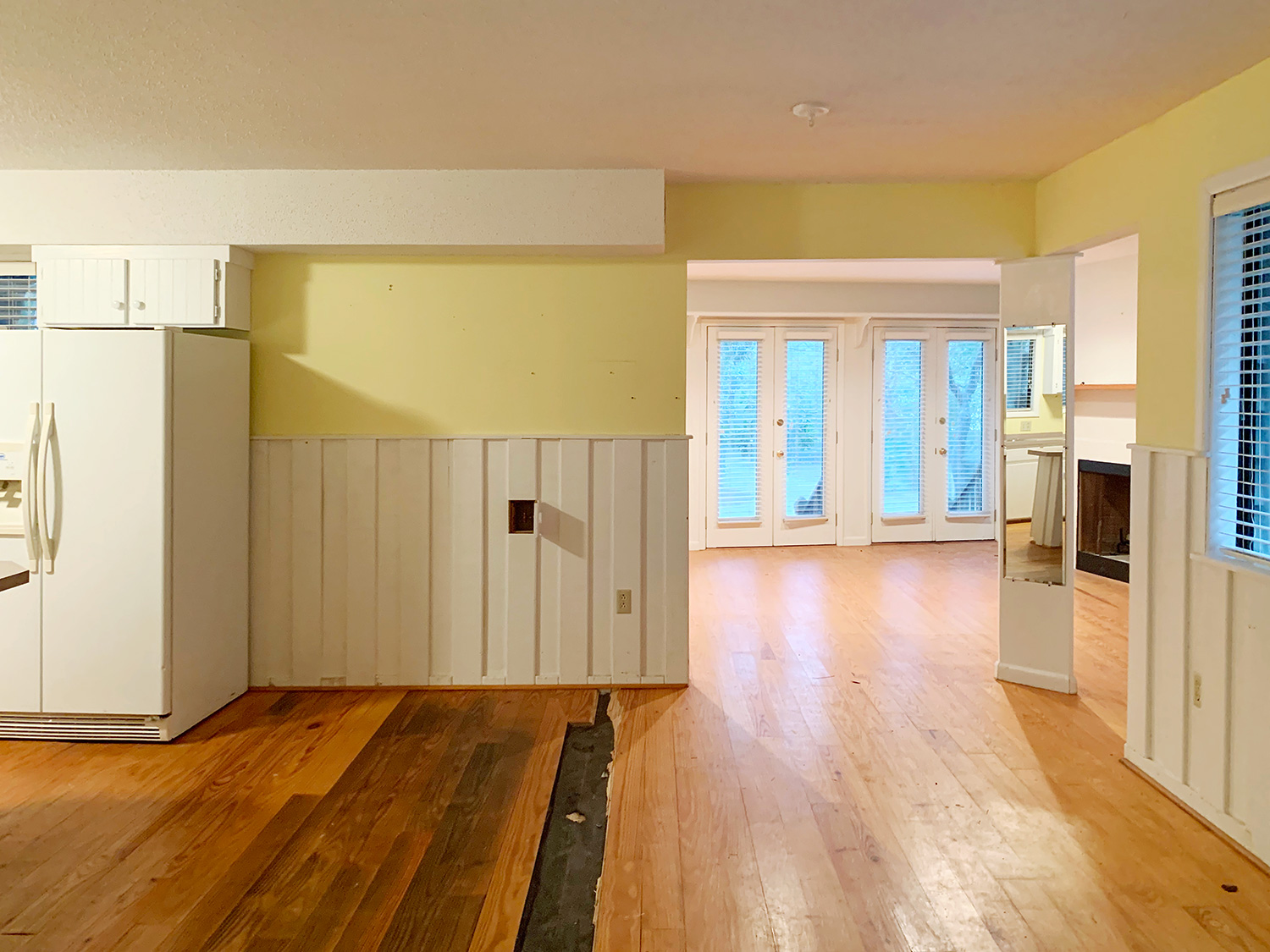 Here's another view of what it looked like before. That's the old kitchen peninsula in the foreground and that door is our front door. So maybe it was some dining room / foyer situation for the previous owners?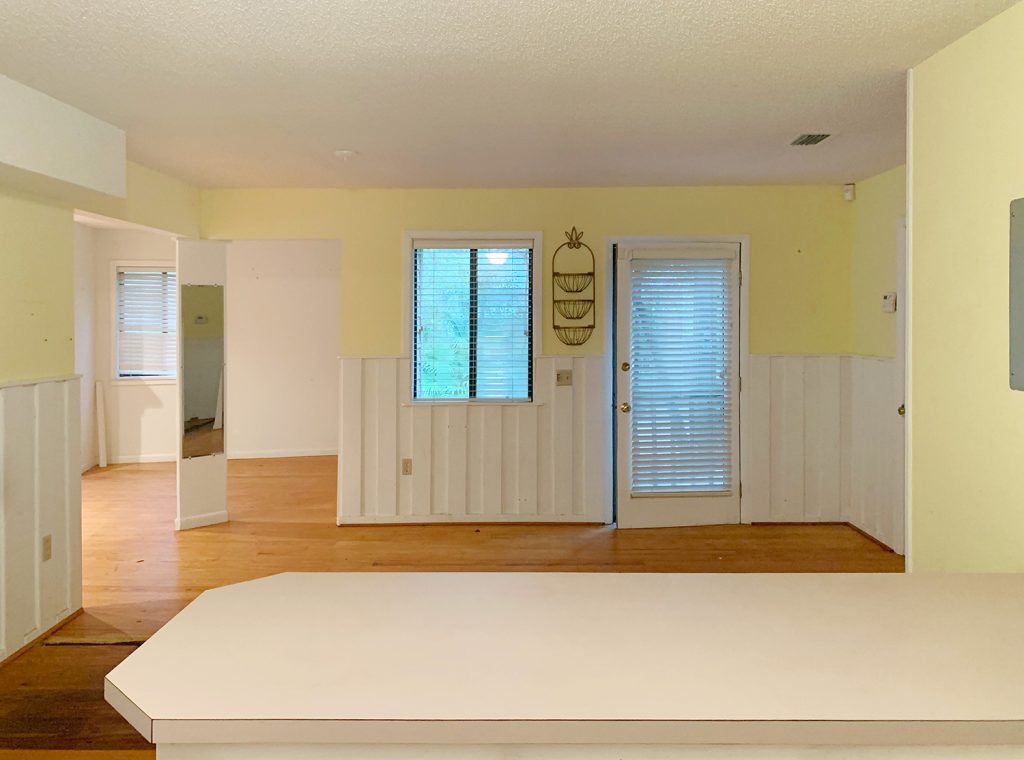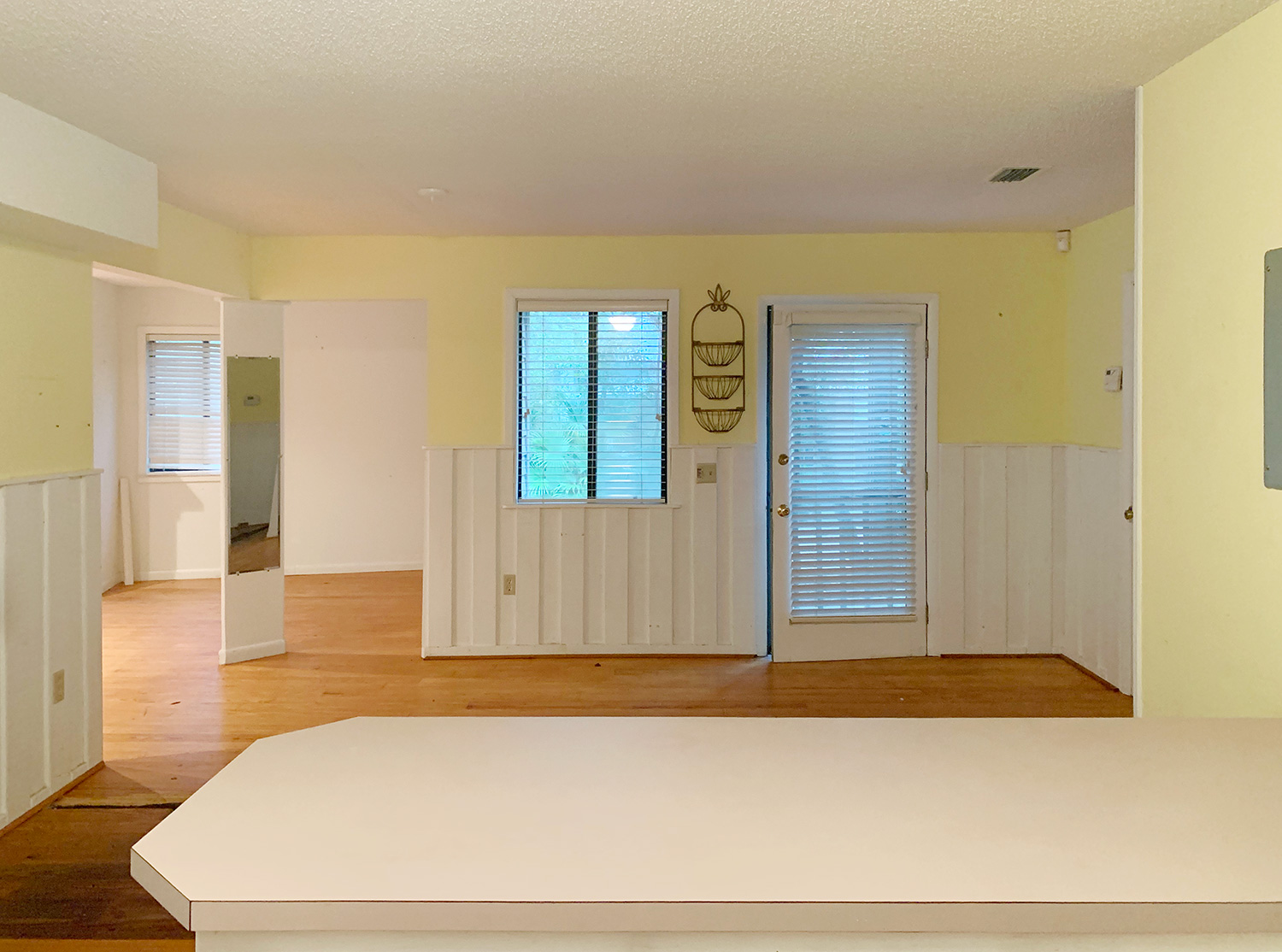 For us it has become the perfect small sitting area downstairs – for reading or hanging out with friends who stop by while their kids run off to play outside or upstairs. It's also where our kids hang out while we're making meals (in the morning before school we're all in there – and in the evening around dinnertime too). Making this area work with two doors kind of in the middle of it took some strategic furniture buying. Like the cozy loveseat and our new round terrazzo coffee table – but it came together better than we could've imagined.
In a smaller house there's a certain luxury to having a hangout area downstairs as well as a cozy TV/movie room upstairs (once again, we can have friends over and sit and chat here while the kids are upstairs crafting or watching a movie). It really helps the house "live large" because we don't feel like we're all on top of each other.
Here's a shot with some people and a certain smiling dog for a better sense of scale. I'd say this is a pretty typical scene, although I'd probably be playing Wordle and Sherry would be whispering sweet nothings to Penny like she is below (perhaps while also attempting to beat me at Wordle and talking smack like only a lady from New Jersey can).
As much as we loved our old storage coffee table, we knew something round would give the room better flow. And slowly over time as we lived here, we were able to add more built-in storage (like our bedroom wardrobes, the cabinets flanking our fireplace, the media cabinet upstairs – and even more recently optimized the utility closet in the kitchen) which meant that we had lots of alternate spots for the items that we used to store in the old coffee table. Sherry has loved this terrazzo table from CB2 for a long time, so it was an easy choice once we eliminated the need for a coffee table with storage.
Even though it's pretty substantial looking since it's made of stone, the light color helps this side of the room feel more open and airy than it did with the other table. Plus the terrazzo texture plays nicely with the durable metallic rug we've had forever.
Speaking of a room that works extra hard for us, we might as well swing over to the other zone in this room… the laundry closet. Yup, behind those two doors = an entire laundry station. I'm telling you, this room works so hard for our family.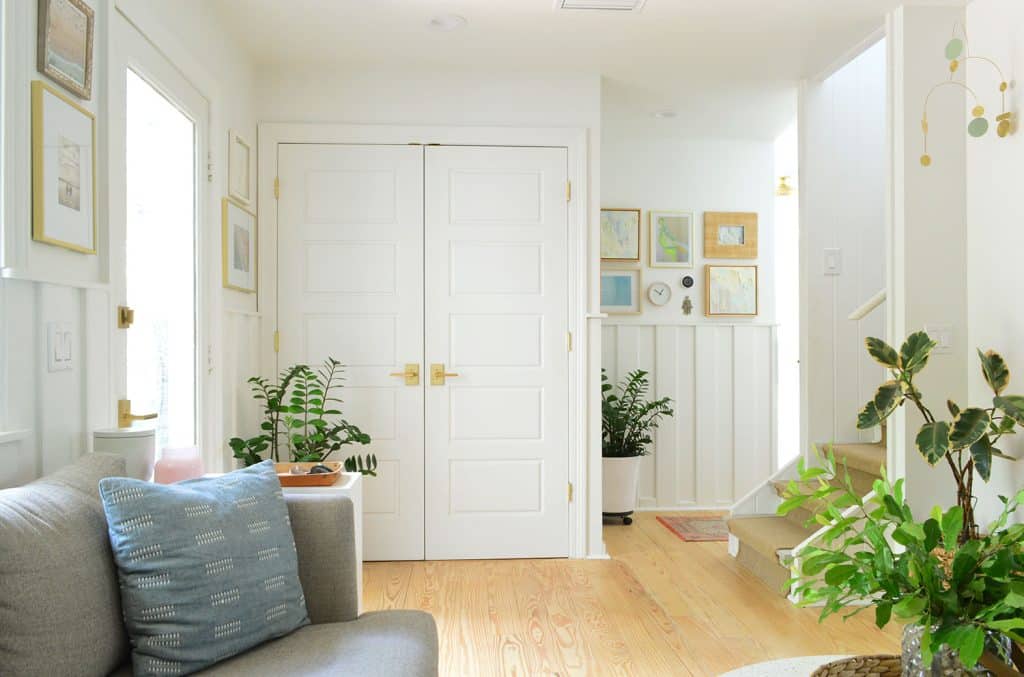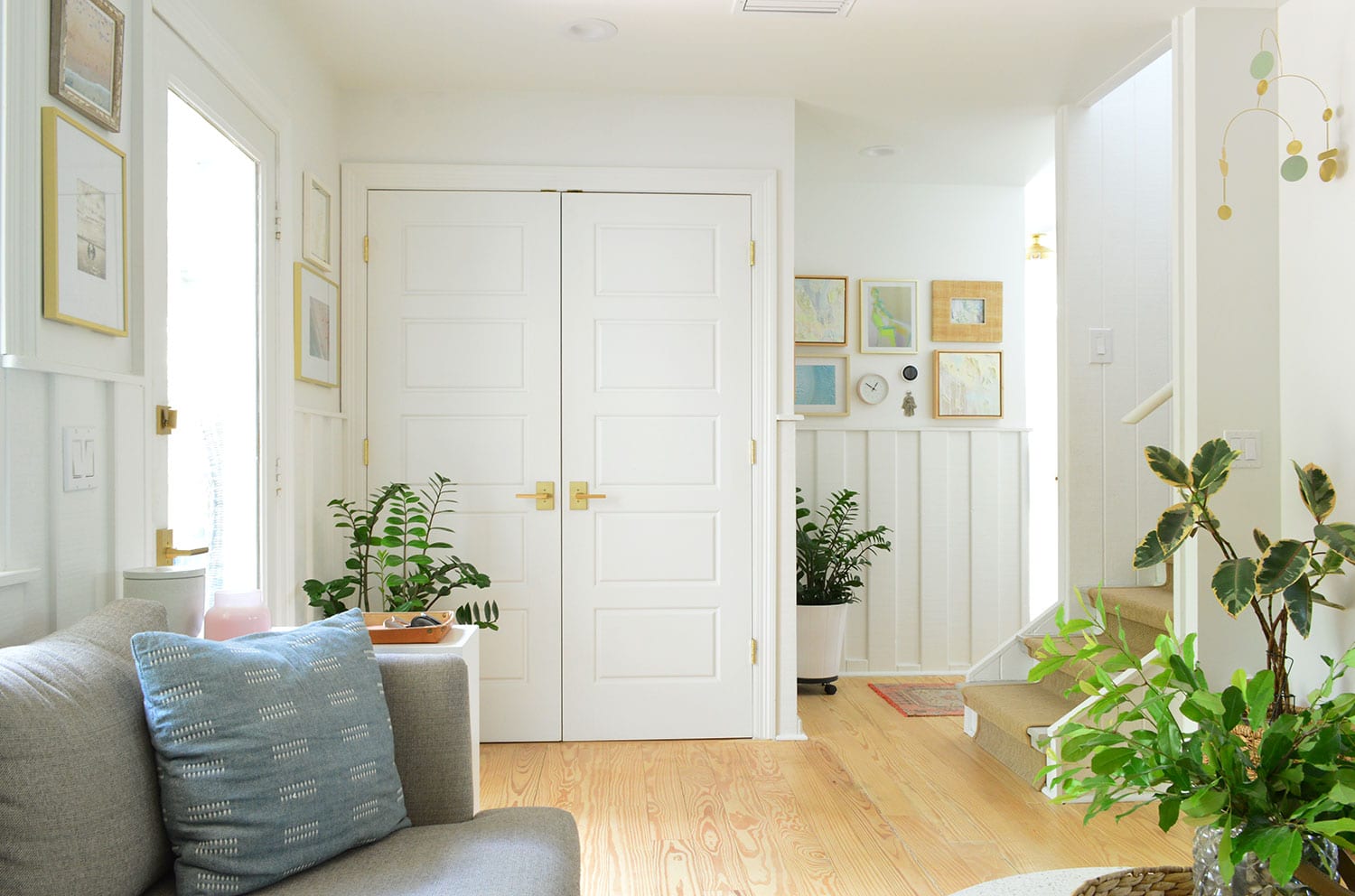 Little half peek: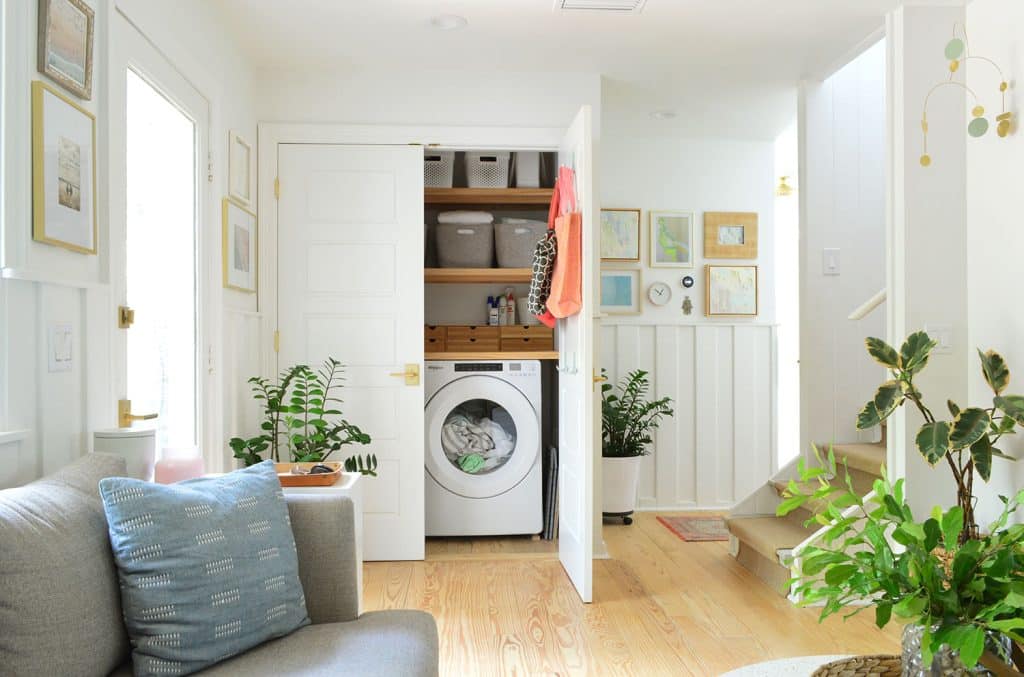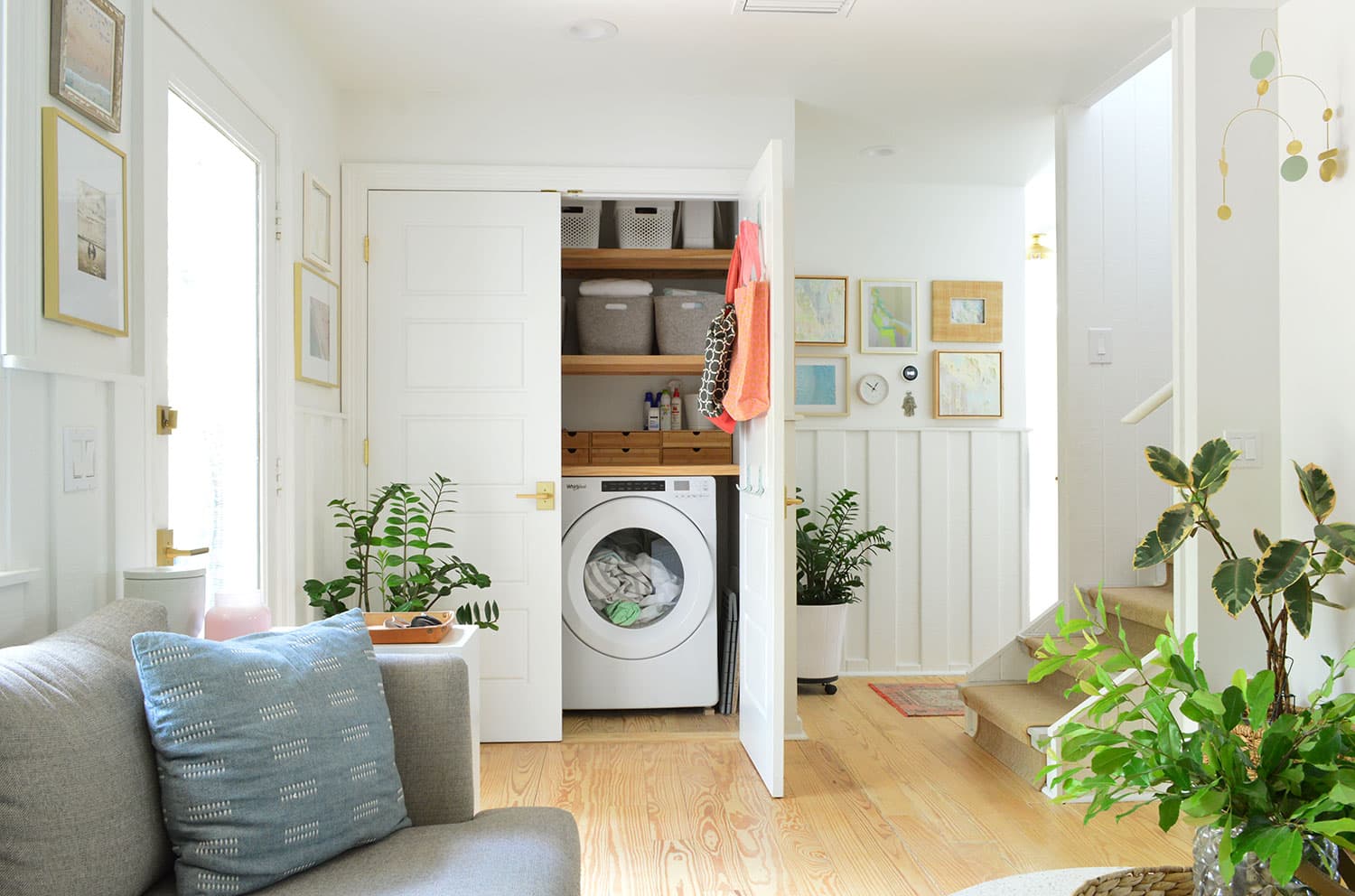 Full monty: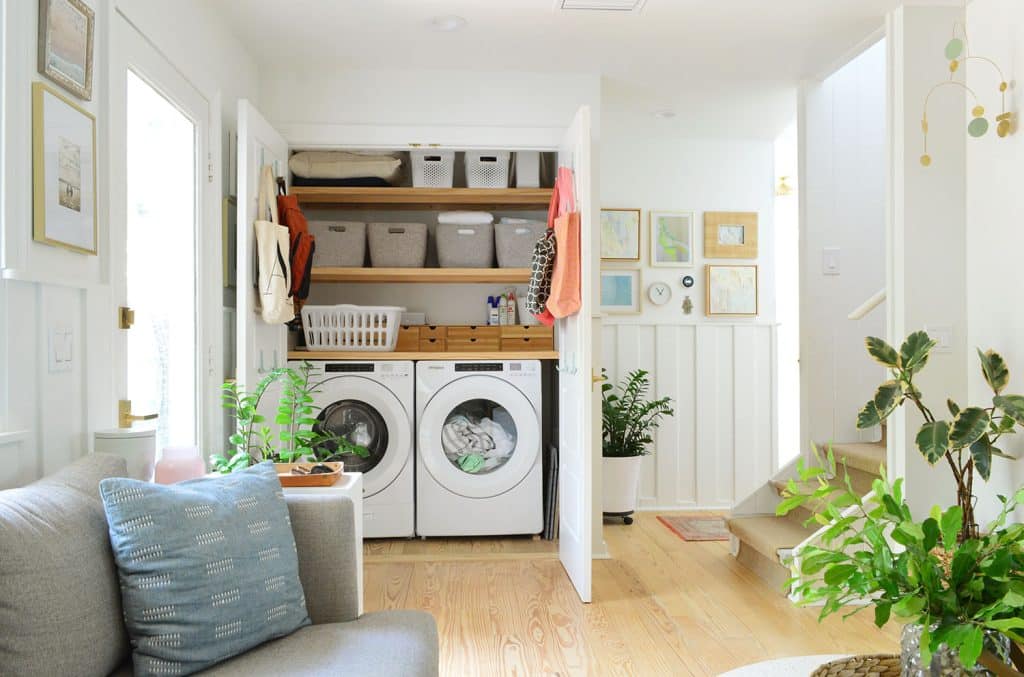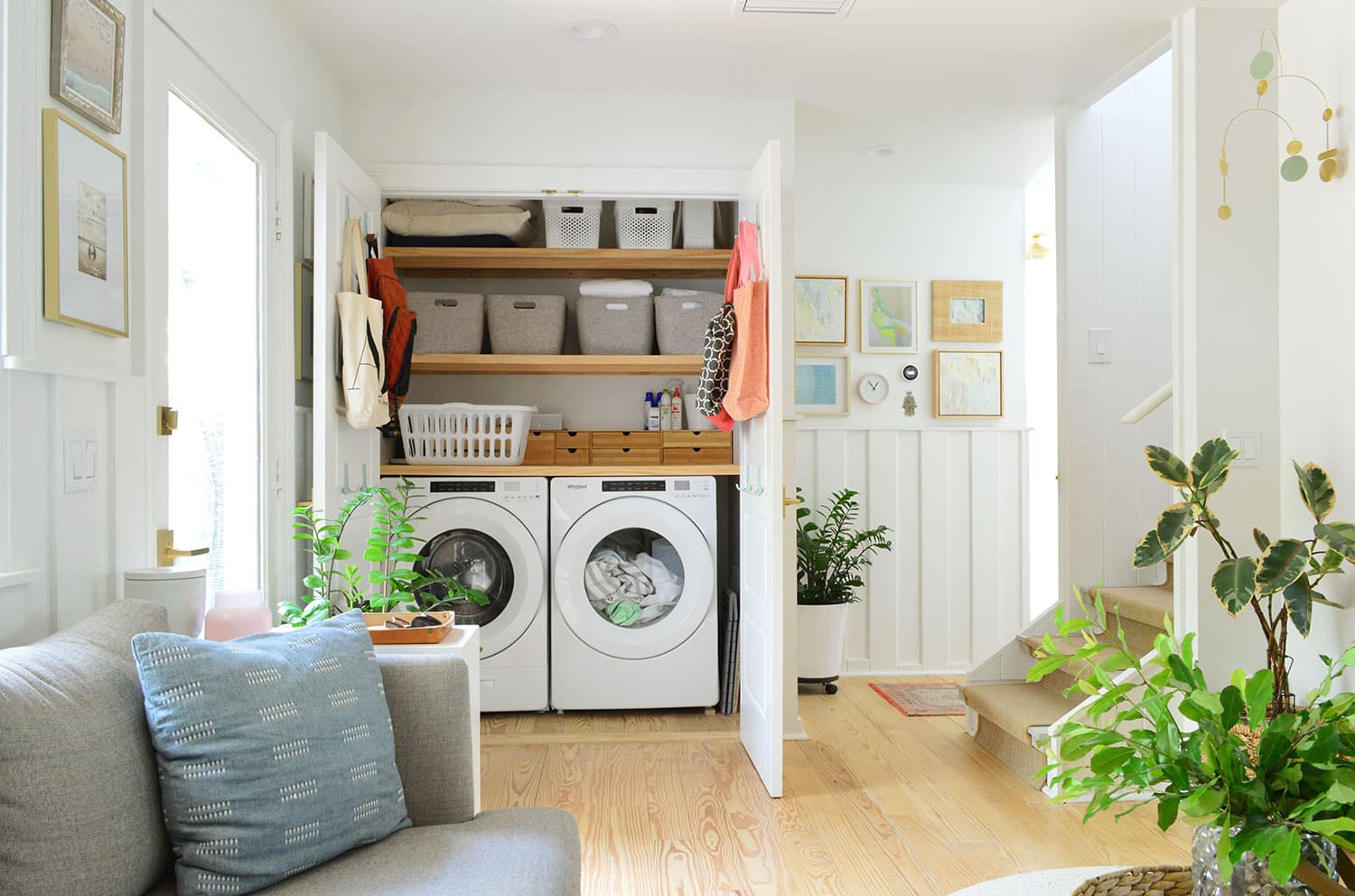 Let's flash back to a before shot from the same angle, just for fun. it used to be less wide (just one door) and it inexplicably led into one of the bedrooms (which also had a normal door for entry, so we closed the back of the laundry closet off real quick).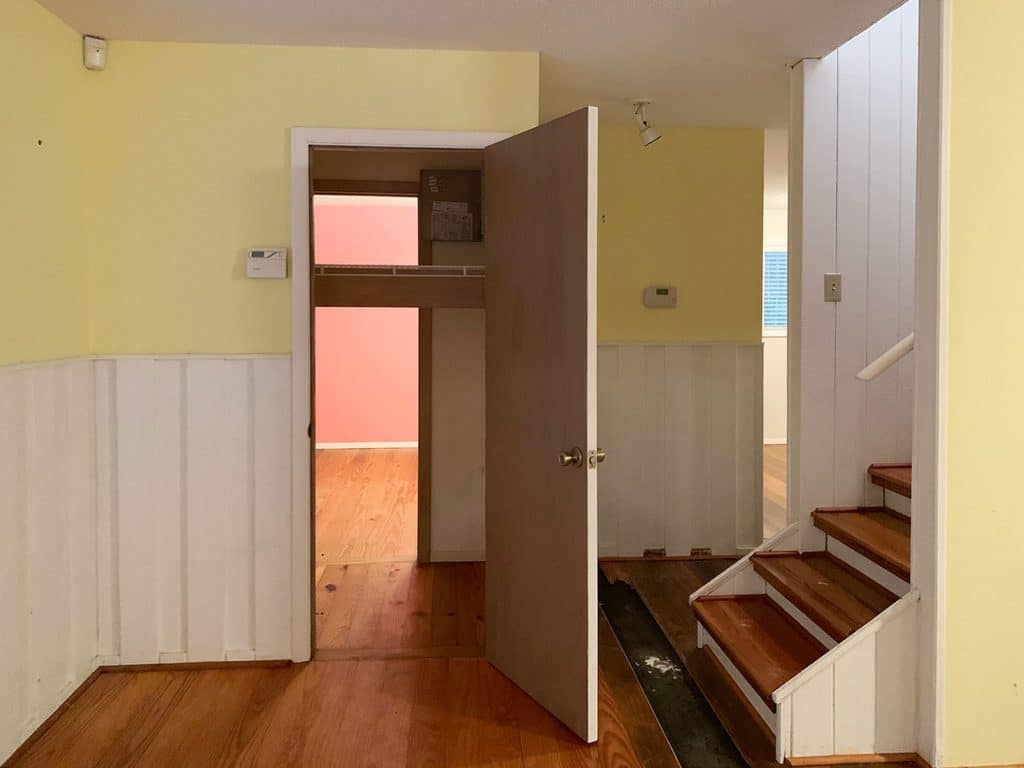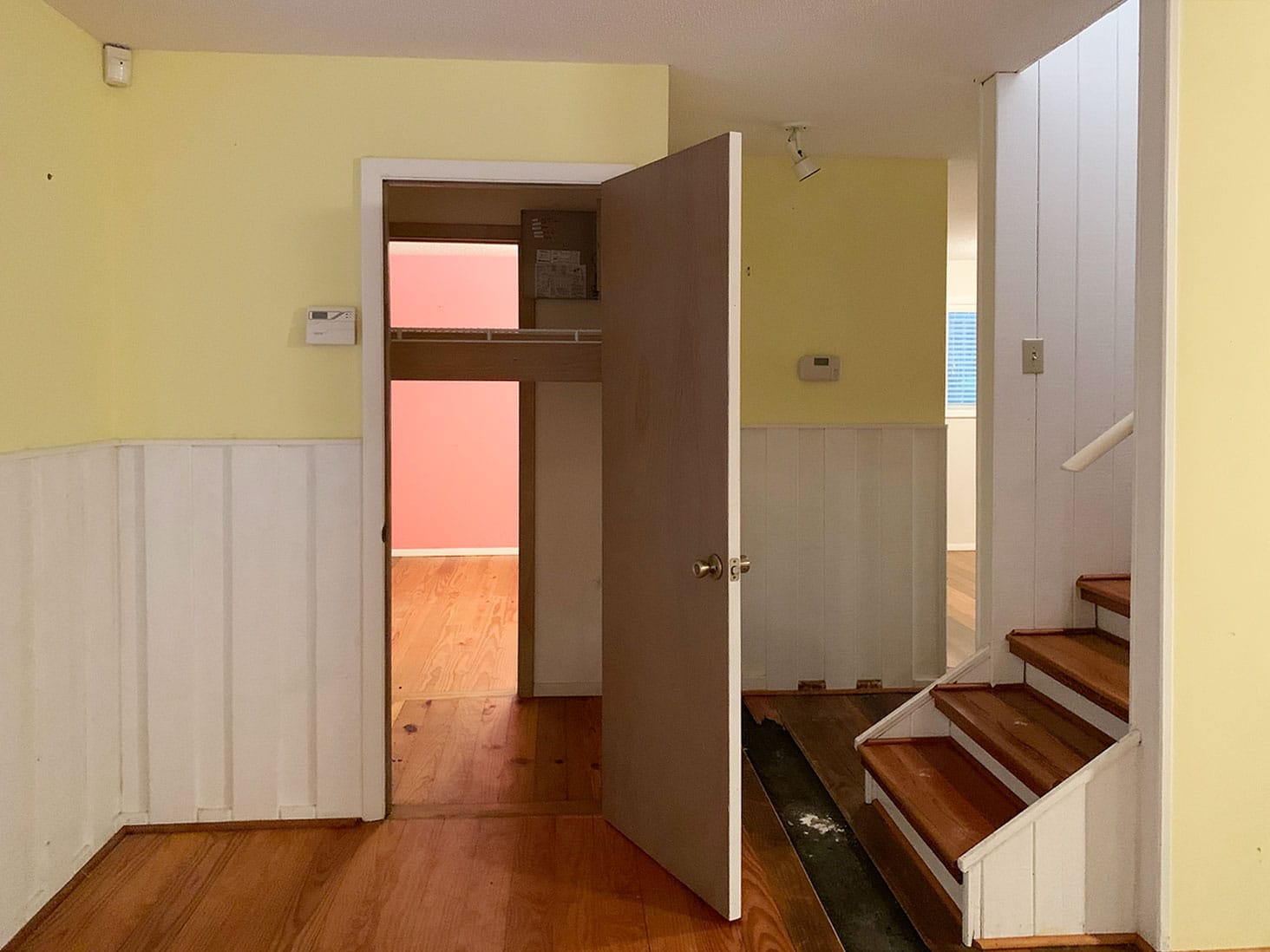 It feels really good to have the kitchen feeling more functional and streamlined along with a settled-feeling sitting area and a super-efficient laundry zone. We tried all sorts of insane layout ideas for the sitting area before landing on something that worked, btw, so don't get discouraged if a tricky space feels like it's evading you. Just keep trying new things and rearranging stuff, and two years later you might just be like… "this is IT!"
Before I break out some math on you in the form of a budget breakdown (you know I love a spreadsheet) let's take one last look at the real star of this room, curled up in one of her go-to spots. Penny seems to love this loveseat just as much as her brother did.
The Kitchen Renovation Budget
This was one of my harder budgets to piece together because it was spread over so many months, but I did my best to hit all the major renovation elements you see in the finished kitchen (the pendant, new faucet, cabinets, counters, sink, disposal, tile, paint, appliances, hardware, etc). It's strictly a kitchen reno/material budget so I didn't add the fruit bowl, toaster, table, chairs, etc – since that stuff isn't attached to the actual house/reno and I felt like it would just get insane to try to tabulate every bowl & plant pot.
I also didn't include contractor costs from the initial house update before we moved in, because we left the kitchen intact for the most part (the old cabinets/counters/sink remained) and I can't break out *just the kitchen prices* from our original renovation (line items were more like: "whole house new drywall", "whole house floors patched"). So this budget is from the point of starting with a room that has drywall and doesn't have holes in the floor, which seems like a pretty common starting place.
We did all of the other work ourselves (cabinet installation, painting the cabinets, tiling the backsplash, etc) so that's why you don't see any line items for that. The counter pros did install the counters, but that's included in the price below:
*Our stove, dishwasher, and refrigerator were bought second-hand for $500, which was the deal of our lives, thanks to Facebook Marketplace and our realtor (the appliance total is $930 above because it also includes the Ikea hood).
Note: Changing the kitchen window to a door was part of a larger contractor price for redoing our entire kitchen porch. We'd guess it was about $1,270 for that part of the job (around $900 for labor + $370 for the door), although the cost will likely vary based on your situation & the door you choose.
And while we're on the kitchen budget subject, you can check out how much the duplex kitchens cost right here and see another amazing kitchen renovation that was done on a budget that we featured a while ago right here.
Ok. We did it. One giant photo-filled post about our finished kitchen with lots of before & after photos, as well as a video (truly, the video gives you so much of a better feeling for the space than any series of photos can, so watch that whenever you can).
Thanks for following along as we shared the most gradual kitchen renovation we've ever done. There were lots of small victories along the way, like finally having a pantry or finally getting a range hood – and man it feels good to stick a fork in it (*insert bad dad-joke about forks belonging in kitchens here*).
And if you'd like to look back on all the other kitchens we've renovated over the years, we've got you covered:
That makes this kitchen our seventh one (!!!) and we wouldn't mind if it was our last. Lucky seven feels like a good place to stop. Although Sherry helped a neighbor update her kitchen (while keeping her wood-toned cabinets!) so we hope to get that up on the blog eventually.
*This post contains affiliate links, so we may earn a small commission when you make a purchase through links on our site at no additional cost to you.
More posts from Young House Love